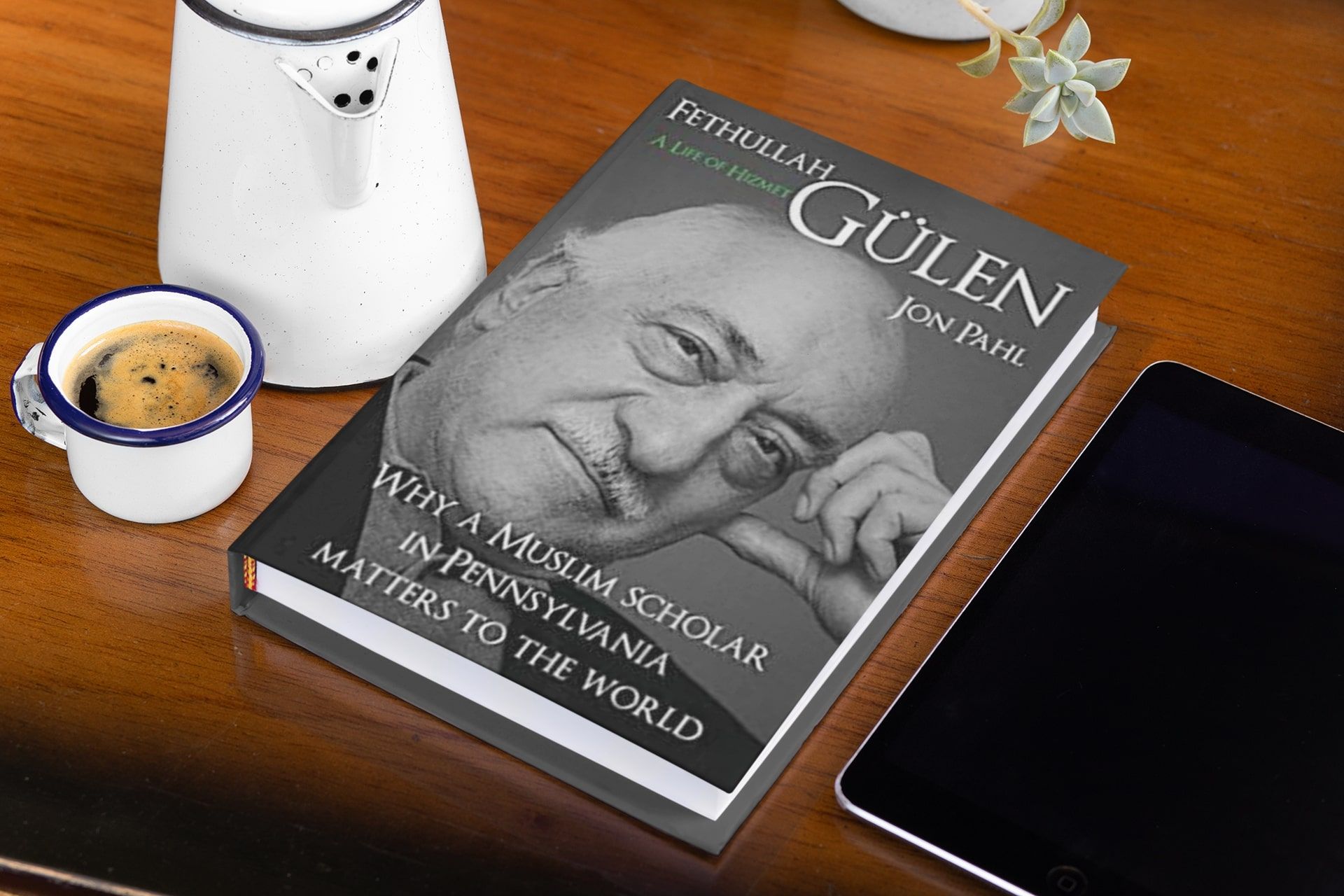 First-Ever Comprehensive Biography on Fethullah Gülen
In the first-ever comprehensive biography, Fethullah Gülen: A Life of Hizmet – Why A Muslim Scholar in Pennsylvania Matters to the World, author Jon Pahl gains unprecedented access to Fethullah Gulen's inner circle as well as to Gülen himself.
This year officially marks 20 years since Gülen's self-imposed exile in the Pocono Mountains. In 1999, Gülen traveled to the U.S. from Turkey. Despite living in a remote retreat center in Pennsylvania, Gülen continues to be a source of inspiration for hundreds of thousands of people across the globe.
Gülen is a scholar and public figure who has been recognized for his peace efforts (Gandhi King Ikeda Peace Award, 2015; EastWest Institute Peace Building Award, 2011); listed by Time magazine among the world's 100 most influential leaders (2013); and the top public intellectual by Foreign Policy journal (2008). Today, Gülen is often remembered with the dispute in his homeland, Turkey, especially after the brutal crackdown on his followers in the aftermath of the coup attempt in July 2016. However, the story of Gülen's upbringing and rise to global recognition has seldom been explored. Pahl offers a new spotlight on Gülen's rise from a young boy in a tiny Turkish village to a scholar whose teachings have generated a movement of education and interfaith dialogue.
The Gülen movement, also known as Hizmet, is dedicated to literacy, social enterprise and interreligious dialogue. The movement funds thousands of schools and religious centers throughout the world, championing Islam's commitment to spiritual and scientific literacy. This transnational movement is a centerpiece of social and political discussion in Turkey and around the world.
Drawing on extensive interviews from supporters and critics, Pahl offers an analytical account into Gülen's life, whose work and activism continues to stir controversy in the Turkish presidential palace, the Middle East and beyond. Though many of Gülen's followers venerate him, others perceive him as a controversial political figure. In this insightful new book, Pahl explores these dueling identities.
In the midst of Turkey's harsh crackdown on dissent and press freedom, comes a one-of-a-kind book exploring the life and mission of Erdogan's most despised enemy.
"To frame him as a political figure is to miss who he is," says Jon Pahl, who spent 9 years researching Gülen and talking to people close to him.
Advance Praise for 'Fethullah Gülen: A Life of Hizmet'
"As the most fascinating and influential Islamic leader alive today, Fethullah Gülen has stirred controversy. Jon Pahl is keenly aware of the accusations that have dogged Gülen, and in this remarkable biography he deals with them as scrupulously and convincingly as a self-confessed admirer of the man and his movement can. More than that, Pahl offers a provocative meditation on the part that religion can play in leading us to serve our fellows rather than setting us apart from one another. Most of all, he tells an inspiring story of a modern saint."
—Michael Zuckerman, PhD
Professor of History, University of Pennsylvania
"Jon Pahl has delivered an important gift to the English-speaking world. Often described in the U.S. media as 'the exiled cleric,' Fethullah Gülen's life and Islamic teachings are relatively unknown. Pahl provides a comprehensive history of this one man and his movement of 'service.'"
—David D. Grafton, PhD
Professor of Islamic Studies and Christian-Muslim Relations at Hartford Seminary 
"Jon Pahl's new book makes a substantial, significant and distinctive contribution to the literature around Fethullah Gülen and the Hizmet movement inspired by his teaching and person. As a biography written by someone with the skills of an historian of religion it differentiates itself clearly from a hagiography. At the same time, it seeks to deploy an appropriately spiritual understanding of a leading Muslim scholar whose life is revered by hundreds of thousands of Muslims and others, and whose teachings have inspired them. In the wake of the July 2016 and following events in Turkey, Fethullah Gülen has become the focus of a campaign of defamation that seeks to justify the misappropriation of assets, summary dismissal from employment, and arbitrary imprisonment of many tens of thousands of people in Turkey, and to the practically enforced exile of many others. In contrast to this, while engaging with a number of the key charges made against Fethullah Gülen, Pahl's summative evaluation of his subject's life in terms of its essentially Qur'anic roots, Sufistic interiority, and consultative engagement with individuals and groups that has resulted in many hundreds of big and small positive initiatives in education, dialogue and the relief of poverty, makes what is a very a timely contribution to public debate. In underlining that, for Fethullah Gülen, both his life and all these things take place within a divine and eternal horizon, Pahl's book also fulfills what its author expresses as his hope for it – namely that it is indeed both 'critically-sound and spiritually-inspiring.'"
—Paul Weller, PhD
Emeritus Professor, University of Derby, UK
"Pahl's book does a masterful job of rich description of the people, places and historical events that shaped the life and spirit of one of the outstanding religious scholars of the modern age and the movement he inspired. Unique and noteworthy in Pahl's biography is the brilliant way in which he places the events in Mr. Gülen's life in the historical context of the swirling and complicated politics of modern day Turkey.  
—Helen Rose Ebaugh, PhD
Professor Emeritus, University of Houston
"This readable and well-researched book is an appreciative biography by an outsider to the movement that Fethullah Gülen has spawned, and helps us understand the form of Islamic modernism that he represents and why some political leaders find it challenging. If you want to understand Gülen and his movement, this is the place to begin."
—Mark Juergensmeyer, PhD
University of California, Santa Barbara
Author of Global Rebellion: Religious Challenges to the Secular State
"Jon Pahl's biography of Fethullah Gülen, A Life of Hizmet sheds light on the Hizmet Movement with an extraordinary openness, touching on curious and crucial issues, and responding them in a freely flowing and constructive manner. A must-read that clarifies our understanding on the Hizmet Movement of Islam through the biography of Gülen towards universal values, peace, interfaith, empathy for the world's problems, and altruism in service to community at a most needed time."
—Züleyha Çolak, PhD
Lecturer and Coordinator of Turkish Language Program in the Middle Eastern, South Asian, and African Studies Department, Columbia University
"Jon Pahl's Fethullah Gülen: A Life of Hizmet is the first scholarly study of the Turkish Islamic reformer's emergence into a beloved and controversial global leader of values-based education, transformative business practices, and principled religious pluralism.
"The genius of Pahl's book is his lucid translation of Gülen's vision into a contemporary idiom that modern readers can relate to and understand. Akin to Alex Haley's The Autobiography of Malcolm X, Pahl effectively analyzes the tension in Gülen's life between creative fidelity to a revealed tradition and generous openness to present-day education, science, technology, business, and society.  
"Eminently readable, bracingly fast-paced, originally researched, and replete with Gülen's own inspirational speeches and writings – this new book is a must read for anyone interested in the relevance of civic Islam in the clash between religion and politics in the world today."
—Mark I. Wallace, PhD
Department of Religion, Environmental Studies Program, Swarthmore College, PA
"With clear, interesting, and often moving prose, Jon Pahl narrates the story of Fethullah Gülen, a fascinating person with qualities of Mahatma Gandhi and other great spiritual leaders. As one who has seen outstanding people in the Hizmet movement in a number of countries, this book helps me understand how a great role model can lead to human empowerment and social betterment. Gülen has given women courage and opportunity to be educated and live up to their full potential. Like Martin Luther King, Jr., Gülen has empowered people with education that has led them to civic engagement. This has been helping to transform societies. While dictatorial repression has caused challenges for the Hizmet movement at this time, truth, justice, and compassion will prevail. I am grateful for this important biography which has material that can enrich historical, interfaith, gender, sociological, and religious studies."
—Martha Ann Kirk, Th.D.
Professor, University of the Incarnate Word
About the Author
Jon Pahl is the Peter Paul and Elizabeth Hagan Professor in the History of Christianity at the United Lutheran Seminary, Philadelphia, Gettysburg.
Pahl is a historian of religions, a public theologian, and an award-winning teacher, pastor, and community activist. He received his B.A. from Valparaiso University, M.T.S. from Trinity Lutheran Seminary, and Ph.D. from the University of Chicago Divinity School. Dr. Pahl has spoken with audiences at Oxford and Cambridge Universities, Stanford, Yale, Princeton and many other academic venues around the globe.  He has worked with diverse community groups, including most recently as a pastor at Union Congregational United Church of Christ in Green Bay, WI.  
Dr. Pahl has published dozens of articles, essays, columns, and reviews; has appeared on media outlets from the BBC to ABC, and is author or editor of six books, including Shopping Malls and Other Sacred Spaces: Putting God in Place (Wipf and Stock) and Empire of Sacrifice: The Religious Origins of American Violence (NYU). He is working on a book with the title A Coming Religious Peace.
Fethullah Gülen: A Life of Hizmet – Why A Muslim Scholar in Pennsylvania Matters to the World
By Jon Pahl
Blue Dome Press
ISBN-13: 9781682060209
450 Pages
$24.95
To order the book click this link:
https://bluedomepress.com/product/fethullah-gulen-a-life-of-hizmet/
A Brief Summary
Fethullah Gülen and the Hizmet Community: An Overview By Jon Pahl, PhD
CONTENTS
The Life of Fethullah Gülen: A Life of Hizmet—Overview
Greater Detail On Specific Topics Of Interest In Gülen's Biography
From Chapter One: Learning—Erzurum and Edirne, 1938-1966
Mr. Gülen's education and philosophy of education: combining Islam and scientific (modern) rationality
Not a military or political family, but a pious family
"Those who speak a lot make many mistakes"
A changing birthdate—the reach of oppressive secularism
His earliest preaching—in Alvar and Edirne; the influence of Sufism
Was his preaching a threat to a democratic State?
Was the young Gülen an anti-Communist?
Military coup leads to first arrests
From Chapter Two: We Were Young, Izmir – 1966-1971
Nonviolent practices – living for a cause in a violent Turkey
The significance of sohbets—building social capital in small groups
Converting Ideological Polarization
The Hajj pilgrimage in 1968 expands Mr. Gülen's horizons, and sets an example for hizmet
Ramadan teaching as raising spiritual and extending hospitality
Reviving zakat—a renewal of charity and altruism in Turkish Islam
1971 coup and Mr. Gülen's arrest
From Chapter Three: Empathy and Tears, The Aegean, 1971-1980
Mr. Gülen's decision to remain unmarried
Ghurba—loneliness and alienation in Islam
Q&A sessions with college students—no discussion of politics or individuals
Abis and Ablas—brothers and sisters in Hizmet; growing trust
"The Hodjaefendi Method" of Leadership Development
Preaching tours across Turkey, and to Germany in 1977—deepening appreciation for democracy
"I seek refuge in God from Satan and politics"—the 1980 coup
From Chapter Four: Melancholy and Dialogue, Istanbul—1980-1999
Succeeding "for the pleasure of God"
Media efforts—Sızıntı magazine, Zaman newspaper, Samanyolu television
Third pilgrimage—charges against him; and offer to stay in Mecca
Final years of public preaching: The Prophet Muhammad's example of hoşgörü
Dialogue activities, notably with Jews and Christians
Anti-racism, and outreach to Kurds
Erdoğan and Gülen in the 1990s, not "allies" but a shared commitment to democratization
From Chapter Five: Hizmet Global, America—1999-present
The work of istişare: Mutual consultation as the heart of hizmet
The authority structure in Hizmet: an organic and voluntary hierarchy, varying by locale
Not a Gülen "brand," but the practice of Islam—Hizmet is not an "Alternative to the State"
From 2010-July 15, 2016: The gradual scapegoating of Mr. Gülen and people of Hizmet
Specific Accusations Against Mr. Gülen And Hizmet
Was Mr. Gülen the leader of an armed terrorist organization?
Mr. Gülen's consistent and repeated critiques of terrorism and violence
Was Mr. Gülen's aim to "infiltrate" the Turkish government via a "parallel state?"
Is the Hizmet movement a "cult?"
Introduction
This analytical paper is a summary of my book Fethullah Gülen: A Life of Hizmet – Why a Muslim Scholar in Pennsylvania Matters to the World. Tens of thousands of people affiliated with Hizmet (aka Gülen Movement) had to flee the crackdown by the Erdogan regime in their home country, Turkey, while tens of thousands have been put behind bars, fired from their jobs, and stripped of their social benefits for their alleged association with the Movement. Because of the political influence and overwhelming defamation spread by the Erdogan regime, the minds of both the lay people and the officials in other countries are confused about Hizmet community who, while building schools and promoting dialogue around the world, are being accused of being terrorists in their homeland. It is my hope that this analytical paper / summary of my book can serve as a source of reference for those who conduct research on Mr. Gülen and the Hizmet Community and for those victims to use in their legal actions.
I am the author of the first critical biography of Fethullah Gülen in English.[1] My qualifications to offer this analysis stem from a three-decade career as a scholar of religions. My Ph.D. from the University of Chicago included comprehensive examinations in the History of Religions (especially Western Religious Traditions, including Judaism and Islam) and in Ethics. I have taught across the breadth of the disciplines in the study of religions, first at Valparaiso University, then at the Lutheran Theological Seminary at Philadelphia (now part of United Lutheran Seminary), and with visiting Professorships at Temple University and Princeton University. My teaching and research have consistently delved into questions of religions, violence, and peacebuilding.
Notably, I have been a frequent participant in meetings of the global Colloquium on Violence and Religion, an international agency to explore and to apply the theories of the late Stanford University Professor (and immortel of the Académie Française) Rene Girard.[2]
In addition to my long-standing research on Girard, which I applied most directly in my book Empire of Sacrifice: The Religious Origins of American Violence, I also co-chaired for six years (2008-2014) the American Academy of Religion's study unit on "Religions, Conflict, and Peacebuilding." The American Academy of Religion is the chief guild for scholars of religion around the globe. In this role, I gained deep familiarity with the pre-eminent emerging research into how religious actors can be manipulated into, or legitimize violence, and the ways that they can promote peace. There are clear and discernible markers of religious extremism that can help us to identify when a religious individual or movement is likely to generate violence. Similarly, there are clear and discernible markers of religious peacebuilders across history.
It was in the context of this research on religions, conflict, and peacebuilding that I began to investigate Fethullah Gülen and the Hizmet movement. My work in Empire of Sacrifice (published in 2012) had traced the way religious discourses and practices produced the violence at which citizens of the United States have been sadly exceptional over the course of our history. As a sequel of sorts to that book, and in what I thought would be a turn to a "happier" topic, I began research for a book on religious peacebuilding. It became evident to me that individuals such as Gandhi, Lech Walesa, Civil Rights Movement leader Dianne Nash, the Dalai Lama, Archbishop Desmond Tutu, The Venerable Thich Nhat Hanh, and Liberian Nobel laureate Leymah Gbowee—along with many others, constituted a significant trajectory of conflict-alleviation and peace-building in the modern history of religions. As I became increasingly aware of the work of the Hizmet movement, and by reading an increasing number of Mr. Gülen's works in English, I saw how Mr. Gülen's life and writings evidenced similar patterns of discourse and practice in the company of these other religious peacebuilders. There was, at the time, no critical biography of Mr. Gülen in English. Prior works about him were hagiographies written by insiders in the Hizmet movement, or smear pieces written by secularist critics.  I undertook study of Turkish, and began to investigate Mr. Gülen's life and writings in greater depth.
Over the years of my research, from 2010-2018, I gained unprecedented trust from people within the Hizmet movement, while also maintaining a clear position as an outsider. I sought out critics of Mr. Gülen as well as supporters. The supporters brought many motives—religious commitment, practical vocational development, and finding a community of support; the critics were almost always motivated by political interests or grievances. I read everything Mr. Gülen had written that had been translated into English, interviewed dozens of people inspired by him and critical of him, and I read the increasingly voluminous secondary literature (both scholarly and popular) about him.
Very little of the reputable secondary literature supported the critics of Mr. Gülen, and the primary sources spoke to Mr. Gülen's religious integrity. It became increasingly apparent to me that to interpret Mr. Gülen politically was to misinterpret him—or to distort his life and work intentionally.
I have made no secret of my admiration for Mr. Gülen's version of Islam—which in fact represents the mainstream of the tradition—he is a Sunni in the Hanafi school of jurisprudence, or the largest "denomination" in Islam. Throughout my research, while I sought feedback from people close to Mr. Gülen, I also shared my research with critics, independent historians, and scholars of Islam, in order to sift as wide a range of perspectives and evidence as possible. When I had completed a first draft of a manuscript, I asked to interview Mr. Gülen. I sat down with him for two 90-minute interviews, where I was able to ask him pointed and focused questions about his life and work. Nothing that emerged in those interviews materially diverged from the portrait that had emerged from my textual and field research.
Although I could have published the work almost anywhere, given the attention Mr. Gülen was receiving in the public press, I chose for reasons of speed and efficiency to publish the work with Blue Dome Press—a publisher which had been located in Istanbul, but had moved to New Jersey under pressure from the Turkish government in 2016. I knew that the editor at that press, Hakan Yeşilova, would move with dispatch to produce the book, and that he would exercise the utmost care to fact-check every detail, while also allowing me the academic independence to craft the narrative that emerged from my research. He had done excellent work on a prior volume that I admired by the well-respected Georgetown University scholar of Islam John Esposito, entitled Islam and Peacebuilding: Gülen Movement Initiatives.
My method, then, has been that of a sympathetic outsider to the Hizmet movement. As I put it in the biography:
I have received financial, research, and editorial support in this biography from people close to Mr Gülen....
I also do not believe that support has changed how I approach or understand Mr. Gülen. In all of my interreligious work—now decades deep in experience—I have been guided by a maxim from the sixteenth-century Protestant reformer Martin Luther. That maxim concerns the Eighth Commandment, which reads (in the King James Version that I memorized as a child): "Thou shalt not bear false witness." Luther's interpretation of that Commandment, in his Small Catechism (which I also memorized) reads: "We should fear and love God that we may not deceitfully belie, betray, slander, or defame our neighbor, but defend him, speak well of him, and put the best construction on everything." There has been, unfortunately, plenty of slander and defamation of Muslims in recent years. And there has been plenty of slander regarding Fethullah Gülen.
So, I have written a biography that seeks, from the perspective of an outsider to Islam, to "put the best construction" on Gülen's life and the Hizmet movement. That does not mean that what follows is a hagiography. That kind of biography would serve no one well. It would just replace one kind of lies with another. To "put the best construction on everything" in the life of Fethullah Gülen, as I construe it, means to remember self-critically that my perspective is partial. I am an outsider—both to Islam and to the global Hizmet (service) movement associated with Gülen. This perspective is a decided advantage. I can sift the evidence that emerges in association with Gülen's life with all the rigor that I bring to any historical inquiry. I have not hesitated to ask any question of the evidence or in interviews, and I have sought out voices and perspectives that are critical of Gülen. That said, I have also sought to practice a hospitality of mind that mirrors the kind of hospitality I have experienced in being invited and welcomed into a community. And I do seek to correct the historical record when the evidence seems to necessitate doing so. Allowing slanders and falsehoods to stand is not to "put the best construction" on an individual's reputation.
All in all, I have tried to be fair.[3]
In this analytical paper, I will first present in compressed fashion the authentic Fethullah Gülen that I discovered in my biography, initially in an overview, and then in greater detail, as drawn from the historical evidence and set in context of a changing Turkey. Then, in a separate section, I will directly counter the claims of the spurious narrative that slanders Mr. Gülen as a "terrorist," and that falsely scapegoats the Hizmet movement as an "armed terrorist organization" operating as a "hierarchical cult" dedicated to building a "parallel state" to undermine the Turkish government. In fact, as I shall show, the people inspired to service to humanity by Mr. Gülen constitute a grass-roots, voluntary version of civil (authentic) Islam, and they are patiently proving their democratic bona fides in country-after-country outside of Turkey where they have been serving (hizmet) since the 1980s, and where they are increasingly seeking asylum. It is to the loss of Turkey that these hard-working, morally grounded, and faithful Muslims have been exiled. Their presence will be to the undeniable benefit of their new countries of residence.
I write this paper to clarify that, on the grounds of the scholarly research that led me to write the first critical biography of Fethullah Gülen in English, I can confidently state that Fethullah Gülen has not evidenced the discourses and practices of a violent religious extremist.[4] In fact, Mr. Gülen's life and writings bear clear and indisputable evidence to the contrary: of a consistent and deepening commitment to the authentic nonviolent discourses and practices of Islam; of inspiring people to build schools that strengthen civil society by promoting literacy; of inspiring people to advocate for and to observe the rule of law and universal human rights; of inspiring people to practice behaviors in keeping with the highest ethical principles and moral boundaries— generating social businesses to solve problems such as poverty; and of encouraging democratic participation through think-tanks and agencies, such as newspapers and other media outlets, that promote freedom of speech and robust debate across differences. These are the practices of a peacebuilder. The likelihood that Mr. Gülen has ever engaged in armed terrorism, or sanctioned it, is nil.
Similarly, with reasonable certainty I can clarify that individuals inspired by Mr. Gülen, collectively known in the most accurate scholarly designation as the Hizmet (service) community, have neither constituted a "parallel state" with aims to overthrow Turkish democracy, nor evidenced the discourses and practices of an armed terrorist organization. In fact, quite to the contrary, the individuals inspired by Mr. Gülen to engage in hizmet (service) have consistently evidenced factually-verifiable activity: to support literacy by building schools around the globe; to engage in practice of a principled capitalism that lifts people out of poverty; and to sponsor interreligious dialogues to strengthen civil society, the rule of law, and democratic participation. These are the practices of people dedicated to nonviolence and peacebuilding. As Mr. Gülen has often encouraged people, quoting the poet Yunus Emre:
[W]e should be "hand-less to those who hit, tongue-less to those who curse and heart-less to those who break hearts."... It is not possible to explain anything, especially to convince anyone, by shouting, force and anger. Perhaps using violence was a method in human's tribal past, but time abrogated it and terminated its reign. Now the principle of "convincing through civilized relations" is in effect. Today "heroes of love" should follow this principle.[5]
Mr. Gülen has also often quoted the mid-twentieth century Kurdish reformer Said Nursi, who once said: "[v]ictory among civilized persons is won through persuasion."[6] This is the authentic Gülen who has inspired hundreds of thousands of people to undertake enterprises that grew dramatically in less than four decades. From the overwhelming evidence it is clear that people inspired to Hizmet (service) are as far from an armed terrorist organization as was the nonviolent Christian-based Civil Rights Movement of Martin Luther King, Jr. in U.S. history, or the nonviolent Christian-Muslim Women in Peacebuilding Network of Nobel Peace laureate Leymah Gbowee in Liberia.
What has also become clear to me, in the course of my research, is that the government of President Recep Tayyip Erdoğan has systematically scapegoated Mr. Gülen and the Hizmet movement. This scapegoating advanced gradually from 2012 to the present, and it included the purported "failed coup" event of July 15, 2016. The violence of July 15, 2016 distracted attention from and forestalled corruption inquiries which threatened to expose systemic graft within the government.[7] Whatever the causes of the July 15, 2016 events, and it will likely take historians decades to sort them out, the consequences that followed have been tragic for Turkey's civil society. However, they have clearly benefited President Erdoğan and his cronies. Following the attempted coup, which the President declared "a gift from God," President Erdoğan moved to silence any dissent by closing dozens of newspapers, magazines, television networks, and other media outlets.[8] His government also began systematically to fire and/or imprison thousands of dedicated civil servants in the police, military, and judiciary, and to fire academics, teachers, doctors, and other individuals accused not of any crime, but simply of being associated with the Hizmet community.[9] This scapegoating proceeded through endlessly repeating a false narrative, an Orwellian "big lie," that Mr. Gülen was the "leader" of an "armed terrorist organization" (named by the Government as "FETO") that operated like a "hierarchical cult." This scapegoating—which is a sadly consistent feature in the history of religions, has allowed the Islamist government of President Erdoğan to unite otherwise disparate (and largely uninformed or self-interested) factions in a façade of democratic support, and to steal assets with impunity from vulnerable institutions and agencies even tangentially associated with Mr. Gülen or the Hizmet movement.
As noted above, I have carried out long-standing research on the theories of Rene Girard. Girard is well-known for developing a theory of religions that explains how and why religions often produce violence. In his best-known works, Violence and the Sacred, and The Scapegoat, Girard explains how religions exist to solve violence, but often do so by accommodating or compromising with violence. Notably, in a situation of rivalry, people can fear a war of all against all. In this crisis of unchecked rivalry, demagogues can identify a scapegoat or vulnerable member on the margins of society upon whom the members of the society can collectively vent their aggression in a sacrifice—a literal immolation or (in modern societies) systematic expulsion, incarceration, or exclusion. The war of all against all becomes a war of all against one, and violence is temporarily contained or channeled. In the context of contemporary Turkey, struggling to emerge from the Statist control of the economy into the robust rivalries of a functioning democracy and capitalist economy, Girard's theory is helpful to understand the macro-level religious dynamics that have generated the scapegoating of Gülen and the Hizmet movement.
After all, Turkey is hardly the only country to witness a surge of religious nationalism based upon the scapegoating of a vulnerable "other." As globalization has proceeded inexorably, the threat of rivalry of all against all for apparently scarce commodities has, consciously or unconsciously, frightened many people even in technologically advanced societies into following demagogues who utilize scapegoating. All in all, the rise of religious nationalism over and against some scapegoated "other" is perhaps the most significant story in the history of religions in the 2nd decade of the 21st century. Turkey and the case of Gülen clearly fits into this global pattern of religious scapegoating that Girard's theory illumines—of "resolving" the globalized rivalry of all against all by sacrificing some vulnerable or marginal "other" to temporarily unite all against one, on a thin ground of religious rationalization.
Over the course of my writing, in the summer of 2016 and the academic year 2016-17, events unfolded in Turkey that were tragic. Rather than taking his place in his waning years among other honored religious peacebuilders, Mr. Gülen faced accusations of being a terrorist. I knew from my research that these accusations were absurd. I also knew that these accusations were likely to be effective, in the absence of a dissenting press (since President Erdoğan had moved to shut down the leading critical media in Turkey in 2015 and the first part of 2016), and among Turkish citizens with little actual knowledge of Mr. Gülen's writings or teachings. People in Turkey who may have defended Gülen were increasingly silenced because of fear; if they came to the defense of Mr. Gülen, their livelihoods would be taken from them, in a purge that took on Stalinist proportions. As Professor Cenk Yigiter, a former law Professor at Ankara University, caught up in the purge for signing a peace petition, put it: "Everybody has the fear of being purged or branded as a Gulenist."[10]
Following the events of July 15, 2016, I waited, watched, and read with avid interest the reports coming from Turkey of supposed "Gulenist" involvement in the so-called coup. Nothing I read from the propaganda-driven Turkish media that remained following the purge came close to a reasonable standard of evidence to implicate Mr. Gülen—which is why I understand the U.S. has not agreed to Turkish demands to extradite him.[11]
Nothing I read undercut the narrative about Mr. Gülen and the Hizmet movement that my research had revealed: that this movement was a grass-roots group of educators, social entrepreneurs, and community organizers—not even a "political" movement in any meaningful sense of that term, and certainly not an "armed terrorist organization."
Mr. Gülen has never recommended or endorsed a candidate or party. People of Hizmet (there is no "membership" or official "hierarchy") have generally steered clear of "political Islam." Instead, Mr. Gülen has advocated for what scholars have designated as "civil Islam," or Islam "from below." That is, Mr. Gülen seeks to improve society through individual empowerment, building strong families, and promoting educational excellence. This grass-roots civil society movement evidences, it seems clear to me, the trend toward what Harvard neuropsychiatrist Steven Pinker identified as the "long peace" or the gradual reduction in violence, around the globe.
In short, the experiment that Mr. Gülen engaged, and that people of Hizmet continue to put into practice, is how Islam works with democracy to promote peace. I am confident that without the political overlay imposed by a propagandist narrative, the evidence shows clearly that Mr. Gülen belongs among the most prominent religious peacebuilders of the 20th and early 21st century.
The Life of Fethullah Gülen: A Life of Hizmet—Overview
My biography describes the life of Mr. Gülen in five chapters that both trace the chronology of his life and that highlight the evidence of what I call "seeds of peace" in his teaching and significance. These five seeds of peace correspond to or distill what scholars of religion in institutions such as the Kroc Institute for International Peace Studies at the University of Notre Dame have identified as the crucial qualities that promote just and harmonious societies around the world.[12] We are fortunate to live in an age when the empirical study of peacebuilding has proceeded: we know what promotes peace within societies based on scientific evidence. The five seeds of peace are: literacy; consistency in nonviolent practices (e.g., prayer); engaged empathy; principled pluralism; and an organizational model of social enterprise.
These five seeds of peace are found in ample detail in both Mr. Gülen's life and work, and the five seeds of peace are also evident in the lives and behaviors of people who are inspired by Mr. Gülen's teachings. Structuring the evidence of Mr. Gülen's life around these five themes offers a compelling counter-narrative to the slander that defames Mr. Gülen as a terrorist. In fact, my biography makes plain that through his discourses and practices Mr. Gülen has demonstrated a life committed to peacebuilding—a life of hizmet. Unless his entire corpus of public writing and teaching is somehow to be dismissed as a sham or cover for some conspiratorial political motive—of which there is no evidence, one must conclude that this man is no terrorist, but in fact a peacebuilder of a rank with the Dalai Lama.
Thus, Chapter One focuses on the seed of peace of learning and literacy. It narrates Gülen's earliest years (1938-1966) among his family in the village of Korucuk, his Islamic studies in the provincial city of Erzurum, his first appointment as a preacher in the city of Edirne, and his mandatory military service in Ankara and Iskenderun. The chapter also traces the educational philosophy of Gülen, and how it inspired people to gain education for themselves and then to contribute to educating others in the arts, sciences, technology, engineering, and mathematics. Mr. Gülen's humble upbringing in a tiny, rural village and ascent to global prominence set an example for many Anatolian Muslims—who as Turkey liberalized moved to cities and pursued educations. It was a stereotype of secular Turks that rural Muslims were superstitious and backwards—and Atatürk had ruthlessly suppressed religion. Many Turks followed his example, with the military as the guardian of secularism—hence the repeated military coups and interventions in Turkish history (1960, 1971, 1980, 1997). Mr. Gülen faced opposition from secularists in his early years. And yet, as he emerged into public prominence, he consistently taught and preached that faith did not impede an embrace of modernity. In fact, he thought, it was faithless to be irrational, and irrational to be faithless. Within a few decades, then, people inspired by Mr. Gülen had built schools in 140 different countries; schools that often served the poor and underprivileged. Within Turkey, students at the Gülen-inspired schools regularly scored at the top of Turkey's national examinations. As Mr. Gülen puts it: "Education is the most effective and common tongue for relations with others. We are trying our best to do this; we have no other intention."[13]
Schools thus began in diverse regions following a common pattern: a group of "trustees" (mütevelli in Turkish) inspired by Mr. Gülen gathered together to pool resources. All funds were/are raised locally, without external support. The schools thus function independently in each region, governed by local trustees. Initially, in the 1970s-1990s, these were largely Turkish individuals—ex-pats who migrated to the locale with the intention of growing hizmet. Gradually, over the decades, the trustees became representative of the diverse regions where people inspired by Mr. Gülen built schools and other agencies. Hence, in Albania, Albanians come to represent a majority of trustees, with some Turkish representation; in Tanzania, Tanzanians come to represent a majority of trustees, and so forth. The educational aims of people inspired by Mr Gülen follow this pattern of local governance, in accord with the laws and educational policies of the particular countries.
To my knowledge, people inspired by Mr. Gülen have been assiduous in complying with legal requirements associated with educational enterprises of the particular countries where they work.
Chapter Two highlights the seed of peace of nonviolence in Mr. Gülen's years as a preacher and teacher in Izmir (1966-1970). It was in Izmir where many of the characteristic features of the future Hizmet movement began. Most notably, the chapter lifts up how Mr. Gülen practiced nonviolence through teaching the unity of God and the witness of Prophet Muhammad (pbuh),[14] through his consistent practice of prayer, and through his participation in and advocacy for the other pillars of Islamic faith—including zakat (charity), annual fasting during Ramadan, and attendance at the Hajj (pilgrimage)—which Mr. Gülen undertook for the first time in 1968.
Many of these practices were encouraged through small group meetings called sohbets— or "conversations." These practices promoted peace by building trust between people—or by forging what sociologists have dubbed "social capital." From the beginning of the Hizmet movement, Mr. Gülen himself owned nothing and controlled no organizations. He encouraged people to take initiative, while also inviting people to practice their faith with integrity through living moral lives and by holding each other mutually accountable. Participation was completely voluntary—people could come and go as they wished.
Throughout his life, Gülen has also emphasized sincerity of practice as a crucial component of Islamic living. Gülen has often quoted the poet Rumi, who described doing good deeds with sincerity as "flying with two wings." That is, "if good deeds were a body, purity of intention would be their soul." More directly, to "fly with two wings" was to do the right thing for the right reason. "Without sincerity to animate deeds spiritually," Gülen contended, "all human endeavors would remain lifeless, ephemeral, and ultimately worthless. But those who fly with the two wings of sincerity and faithfulness will fly with God's protection and will unfailingly reach their destination, that is, God's approval and pleasure."[15] It is hard for many outside observers, not schooled in the significance of religion or theology, to appreciate without cynicism this sincerity and earnestness among people of Hizmet. And yet once recognized, this emphasis on sincerity of intention clarifies that rather than conspiring to build a "deep state," Gülen and people of Hizmet were (and are) sincere practitioners of the nonviolent religious practices at the core of Islam. Sadly, their sincerity has also made them vulnerable to attack, as has their nonviolence.
Chapter Three focuses on the seed of peace of "engaged empathy" in Mr. Gülen's life as an increasingly popular preacher throughout the Aegean region of Turkey, from roughly 1970-1980. Mr. Gülen's preaching was emotionally powerful—he often cried during his sermons, and the people who flocked to hear him often cried right along with him. Those tears signified many things, but their central meaning, as I read the record, was a demonstration of empathy for the unnecessary suffering of people around the globe, and especially empathy for the suffering of Muslims who Mr. Gülen believed had fallen behind the rest of the world. Empathy alone does not build a community, however, so Mr. Gülen also in his preaching and teaching encouraged people to take their skills into Turkish society to help in practical ways to redress or to alleviate that suffering. Thus, the first schools inspired by Mr. Gülen began during these years, as did other social enterprises (dormitories or student residences, tutoring centers, and media ventures). All of these agencies were run as non-profits or social businesses, in Muhammad Yunus' model,[16] and they were supported by voluntary donations from business leaders. Such "engaged empathy" that manifests both moral concern for the suffering of the world and imagines or envisions practical action to alleviate that suffering is one of the most prominent seeds of peace in religious traditions and other social movements around the globe.
Suffering has a way of motivating people to take action to get out of suffering; and seeing the suffering of others also triggers in most people a compassionate response and desire to alleviate that suffering, if possible. Mr. Gülen clearly encouraged people to act with "engaged empathy." Adapting Plato, Mr. Gülen described how "if a man at the bottom of a well or dungeon is aware of his situation and feels due suffering, he will try to get out. ... But a man living contentedly down there, even unaware of his situation, will never make such an effort." Mr. Gülen's tears were to awaken people to their collective suffering, and then his practical teaching was designed to inspire them to climb their way out. They did so, initially, by building schools and other educational enterprises to help forge what Mr. Gülen called a "golden generation," where youth would combine faithful practice of Islam with modern skills in the arts and sciences.
Chapter Four concentrates on the seed of peace of "principled pluralism" in Mr. Gülen's years as an advocate for dialogue during his residency in Istanbul, from 1980-1999 (during this time he also preached in the most prestigious pulpits across Turkey). Dozens of schools were built during these years, supported by independent foundations (vakıf) run not by Mr. Gülen (either directly or indirectly), but by local residents who served as trustees (mütevelli). That pattern of local control continued as people inspired by Mr. Gülen began emigrating, especially to nations in the former Soviet Union with large Turkish-speaking populations, and building schools and other social enterprises in countries such as Kazakhstan, Georgia, Uzbekistan and Albania (and indeed others).
Mr. Gülen's involvement in these schools and enterprises was minimal, aside from serving as an inspiration for their founding. He might encourage a person to "go" to a particular country, and people often followed his counsel, but he never dictated. He also never set foot in most of the schools or other agencies. They ran independently. Gülen's role was by example: his ethical teachings shaped the culture of the enterprises, through his books and sermons. But he had little knowledge of or input into the details of operations. Organizational reporting was ad hoc and organic, and the enterprises ran in accord with local law. Further, they were not religious or Islamic schools. They were secular schools with the same curriculum as the local schools.
Individual administrators occasionally met with Mr. Gülen for consultation, and there were people with greater seniority (abis—brothers, and ablas—sisters) who gained respect for their own faithful practice of Islam, but there was hardly a definite "Hizmet" organizational chart. Mr. Gülen consistently disavowed any kind of "movement" in association with his name; he simply wanted people to be good Muslims.
Instead, during these years Mr. Gülen became directly involved in building bridges within Turkey between Jewish and Christian communities, and in fostering outreach to other religious minorities—such as Armenian Christians and Kurdish Alevis. Mr. Gülen visited, among many others, with the Chief Sephardic Rabbi of Israel—Eliyahu Bakshi-Doron, the Ecumenical Patriarch of the Greek Orthodox Church—Bartholomew I, and Pope John Paul II during these years. Mr. Gülen also inspired people, especially through the Journalists and Writers Foundation, and the Abant Platform, to sponsor numerous dialogue efforts that were unprecedented in Turkey for their diversity. At the first of these events, on February 11, 1995 at the Polat Renaissance Hotel in Istanbul, a thousand attended, with Gülen as keynoter. He articulated that evening the central principle motivating his dialogue activities: in Turkish, hoşgörü—which is usually translated as "tolerance," but which in fact is a stronger practice where people accept differences without judgment and seek to find common ground to work together. "Our tolerance [hoşgörü] should be so broad," Gülen wrote, "that we can close our eyes to others' faults, show respect for different ideas, and forgive everything that is forgivable. Even when our inalienable rights are violated, we should respect human values and try to establish justice."[17] It was on that platform that media agencies inspired by Mr. Gülen, such as the newspaper Zaman and television network Samanyolu, grew dramatically during these years, with a similar spirit of hoşgörü at their core (Gülen occasionally wrote articles for Zaman, but did not manage the editing of the paper). Zaman gained a wide circulation in Turkey, to over 1 million in 2014[18]). Through these and other initiatives, Mr. Gülen's principled pluralism and the civil Islam of people inspired by him clearly helped advance democracy in Turkey and contributed to a growing economy.
Chapter Five, finally, documents the seed of peace of "social enterprise" that marked Mr. Gülen's years in self-imposed exile in the United States since 1999. Mr. Gülen had been targeted by secularists during previous military coups. He was briefly detained on several occasions, and he had to go "on the run" for six years, between 1980-1986. The military officials responsible for these coups (1960, 1971, 1980 and 1997) exercised custodial (one might say obsessive) scrutiny to maintain the official secularism of the Turkish Republic. Secularism was defined, in practice, as opposition to any public demonstration of Islamic piety, and a litmus test of secularism was rigorously imposed in the ranks of the military. Down to today, the military remains officially and largely defined by secularism. Consequently, Gülen suffered under every coup—even though no evidence of any illegal activity was ever proven against him. Following the coup in 1997, Mr. Gülen faced investigations that threatened to harm his already fragile health (he had traveled to the U.S. for specialized health services in 1992 and remains in poor health today). So, in 1999 he sought refuge in a retreat center (a former summer camp) in the Pocono mountains of Pennsylvania that had been purchased by some Turkish immigrants to the U.S.
Since emigrating to the U.S., Mr. Gülen's influence over the ever-expanding network of Hizmet-inspired schools, dialogue centers, and social businesses has operated primarily through an organizational model based on the Islamic notion of istişare—an Arabic term that can be translated as "seeking advice" or "mutual consultation." During these years, Mr. Gülen has rarely left the retreat center, he has continued his life of study and prayer, he has taught students who came to visit him, and he has also held occasional consultations with a wide range of people whose enterprises sought to advance Hizmet in education, dialogue, and poverty-alleviation. These consultations were informal, but also followed a theological, and not a political, agenda. That is, the central question in them was not how any enterprise could advance Hizmet as a political movement, but rather how far the enterprise would be pleasing to God. Again, the sincerity of this aim may seem difficult for a secular mind to comprehend, and is of course impossible to prove, but my scholarly judgment as a historian of religions is that the sincerity of this aim within the life of Gülen and within Hizmet is the only way to explain both the growth of the community and its integrity to date.
For instance, it was during these years that the Kimse Yok Mu (which translates to "Is Anybody There?") disaster relief and social service agency arose, as did a number of hospitals across Turkey and around the globe begun by people inspired by Mr. Gülen. The Kimse Yok Mu disaster relief and social service agency was a non-profit to assist people suffering from natural disasters or fleeing conflict zones. That agency began in Turkey following a massive earthquake, but quickly spread to address disasters wherever they happened around the globe. In a similar vein, people inspired by Mr. Gülen opened a number of hospitals across Turkey and around the world, often providing (in Nigeria and Sudan, for instance) some of the most modern facilities and well-trained health-care professionals in the country. These enterprises had theological as well as social purposes. As Mr. Gülen once put it, "being with the oppressed is the same as being with God."[19] Such social businesses that sought to alleviate suffering and to promote healthcare, like the schools and other enterprises, emerged from and operated as essentially democratic systems, with organic, de-centered, and localized dynamics. That was the heart of the istişare model—which operated between people of Hizmet as well as between them and the one they called Hodjaefendi, "honored teacher." As Gülen put it: "The most intelligent person is the one who most appreciates and respects mutual consultation and deliberation (meşveret), and who benefits most from the ideas of others."[20] Gülen himself observed this principle in his consultations; he listened far more than he spoke. This was a practical as well as a principled choice—people gained skills by practicing them, and istişare sought to develop people's leadership skills. As Gülen again put it:
neither seniority, nor title, nor status, nor being a personage of esteem can be a factor for making another person's opinion more credible. On the contrary, when the truth has become manifest, giving weight to these other factors and using them for pressure means destroying the spirit of consultation. There must absolutely be no impositions at consultation.
Such a democratic model of organic leadership is contrary to the image of Gülen leading a conspiratorial "cult," in the false representation of him propagated by the Turkish government. In fact, his organizational practices are both Islamic and democratic—seeds of peace in the form of social enterprises.
At root, Mr. Gülen's life has been dedicated to the faithful practice of Islam, applied in idioms suited to the modern world, to help Muslims bridge tradition and modernity. He has never married, he has lived in simple (if not austere) accommodations, and he has owned nothing. His life has been spent preaching and teaching to encourage people to gain (and to provide) education, to work to alleviate poverty, and to engage in dialogue to overcome disunity and violence. He has lived a life of hizmet (service), and his example has been a touchstone to inspire many. Following the maxim of practical nonviolence, or of "living simply so that others may simply live," Mr. Gülen must be understood first and foremost as a spiritual and religious leader. His life has been politicized for him, but he has consistently disavowed political ambition
Brief additional details on specific topics of interest in Gülen's life, set in the context of political and social developments within Turkey and around the globe, will help to flesh out the basic contours of this life of hizmet, and set the stage for properly understanding the community he has inspired and its significance, in contrast to the specific accusations of the Turkish government.
Greater Detail On Specific Topics Of Interest In Gülen's Biography
From Chapter One: Learning—Erzurum and Edirne, 1938-1966
Mr. Gülen's education and philosophy of education: combining Islam and scientific (modern) rationality
A crucial backdrop to understand the life of Fethullah Gülen is the doctrine of secularism in the Republic of Turkey. Military leader Mustafa Kemal (Atatürk) forged the Republic of Turkey out of the ruins of the Ottoman Empire, and in the face of colonizing pressure. In response to the latter, Atatürk asserted a secularism more rigorous even than the one in France—which was his most proximate model. Mr. Gülen's family negotiated the frequently arbitrary strictures of this secularism, while trying also to remain faithful as Muslims—a difficult balancing act. Fethullah was born in 1938, the oldest son and second child of Refia and Ramiz. He studied in public schools only until 2nd grade—eventually passing exams to meet equivalencies. But his education in Islam was rigorous. His mother, Refia, was his first Qur'an teacher, and his father, Ramiz, was himself an imam and scholar. But at age 14, Fethullah was sent to an Islamic boarding school in Erzurum, where he remained until age 21. About these years at the madrasa (school), Mr. Gülen later wrote, in retrospect, that "we were offered lots of things," but they "did not have a modern line of rationale, a mathematical foundation, or at least a root in Baconian logic." The result was that the madrasa "estranged the natural sciences and research ... [so that] although the Qur'an was read, the book of nature was left to the side... A clash emerged in the society, and the mind separated from the heart. Consequently, the book of the Universe was put in one place, and the book of the Qur'an was put in another."[21]
Throughout his life, attempting to unite science and religion became a mark of Mr. Gülen's teaching and writing. This emphasis on uniting science and religion also explains the emphasis on math and science at many of the Hizmet-related schools. Despite the pressure of secularism—which saw Islam as a barrier to scientific reasoning, Mr. Gülen argued that one could be a faithful Muslim and a scientist. Uniting mind and heart, reason and religion, became the dynamic that drew many people to Mr. Gülen from very early in his career.
Not a military or political family, but a pious family
Prior to Erzurum, Mr. Gülen's family was located in Ahlat, in Southeastern Turkey, but emigrated North to escape the Turkish-Russian war in 1870s. The family cemetery located in the tiny village of Korucuk does not indicate any military or political heroes. It does celebrate the memory of Molla Ahmet, Fethullah Gülen's great-grandfather, with the largest tomb in Gülen family plot. Ahmet was a scholar; a sheikh in the Sufi (mystical) lineage, as was his son, Şamil—Gülen's grandfather, and his father, Ramiz. So, Gülen was the fourth-generation (at least) of religious leaders in the Gülen family line.
"Those who speak a lot make many mistakes"
Gülen was very close to his grandparents, Şamil and Munise. Munise in particular he remembered for her "quietness and depth, like calm seas." She did not speak much, but "tried to reflect Islam fully with her state of being." When she died on January 10, 1954, within an hour of her husband, Gülen grieved inconsolably. Over time, reflecting on Munise's personality, Gülen understood her quiet to reflect both the "deep peace" of Islam, but also a Sufi principle muhasebe-i nefs: "questioning yourself before being questioned." "A sensible person," Gülen writes, "is not one who claims infallibility and therefore is indifferent to others' ideas. Rather, a truly sensible person is one who corrects his or her errors and makes use of others' ideas in acknowledgment of the fact that human beings are prone to error." This capacity for self-criticism and modesty has marked Gülen's life, and it also marks the Hizmet movement. Succinctly, as a folk saying that Gülen quotes puts it: "Those who speak a lot make many mistakes."[22]
A changing birthdate—the reach of oppressive secularism
Mr. Gülen was born in 1938, but for many decades the year was listed as 1941. The confusion reveals some of the oppression that faithful Muslims lived with under the secularist regime. Gülen's father traveled to the regional bureaucrat's office to register his son's birth in 1938. The name he had chosen was Muhammed Fethullah. The official objected that the name was too Islamic. Rather than fight with the official, a fight he knew he would lose anyway, Ramiz left—his son's birth unregistered. Three years later, when another son was born, Ramiz had been elected a village official, and so had some clout. He returned to the bureaucrat, and he registered both his second son Sibgatullah and Fethullah. The registrar, remembering Ramiz' earlier visit, changed Sibgatullah ("paint of God") to Seyfullah ("sword of God"), and left "Muhammed" off Fethullah's birth certificate. So, officially, Fethullah Gülen's birthdate was April 27, 1941—roughly three years after Muhammed Fethullah Gülen was actually born. Such pettiness could, of course, also turn ruthless; bureaucrats had police and military at their disposal to crack down on Muslim dissidents, and they did so arbitrarily.
His earliest preaching—in Alvar and Edirne; the influence of Sufism
Gülen was recognized as a talented student very early in his life.  He became a Hafiz—one who had memorized the entire Qur'an, by the age of 11. He studied especially with a Sufi teacher—Imam Muhammed Lütfi—the Imam of Alvar (a village near Korucuk). Gülen's first sermon apparently happened at age 14 or 15 in Alvar—one spring evening during Ramadan prayers. Apparently Gülen was surprised by the invitation, and he had to stand on a box to be seen over the pulpit. Yet by all accounts, the influence of Lütfi and Sufism was crucial in shaping Gülen's understanding of Islam. Lütfi followed the Sufi way of tolerance. A story is told about how a drunk man showed up for prayer one Friday when Lütfi was preaching. People were scandalized. Yet Lütfi said: "This man is intoxicated with one sin, but if all the sins that the rest of us committed were intoxicating beverages, then we'd see if anybody was sober in this mosque!" Gülen clearly adopted that style of inclusive rather than judgmental preaching. His first appointment as a preacher was in Edirne—a large city in Thrace, near the Greek and Bulgarian borders. As a provincial, Gülen felt out of place—he noted early that he couldn't "preach Erzurum in Edirne." That is, he had to adapt to a new culture. Yet what remained consistent was the willingness to talk to anyone. He met regularly with city officials and politicians, even while the police and military began to take note of a preacher who advertised the title of his sermons every week—a novelty in Turkey where most preachers just read the prescribed sermon dictated by the State-controlled religious bureaucracy.
Was his preaching a threat to a democratic State?
The police and military tended to cast Gülen as a political Islamist—and hence as a threat to the secular state. In retrospect, looking back on this accusation, Gülen said:
I ... served as a preacher for nearly 30 years before coming to the U.S. and my friends continued to publish my talks after I settled here. There are over 70 books based on my articles and talks. It is natural that in Turkish government there are people who share some of my views just as there are those who don't share them.
My teaching has always been to act within [the] law and in an ethical way. If anybody who follows my works acts illegally or unethically, that is a betrayal of my teachings and I fully support their being investigated and facing the consequences.
If there is no discrimination, government institutions reflect the colors and patterns of its society. We know that in Turkish government institutions there are people of various political and religious orientations, such as nationalists, neonationalists, Maoists, Kemalists, Alevis, leftists, sympathizers of Sufi orders and others. For decades, none of these groups could be transparent about their identities except the Kemalists because of political profiling and discrimination....
As far as my discourse is concerned, I have never advocated for regime change in Turkey. To the contrary ... I told publicly that there will be no return from democracy in Turkey or elsewhere in the world. This was both a prediction and a commitment to democracy.[23]
Said Nursi's influence
Sometime in the mid-1950s, Gülen discovered Said Nursi's Risale-i-Nur Külliyati, "The Epistles of Light."[24] Nursi (1877-1960) was a Kurdish reformer who fought against Russian Forces in WWI, joined with Atatürk in establishing the Republic, but then turned against Atatürk when the Republic turned against religion. Gülen did not necessarily agree with Nursi's politics, but he did find many other points of agreement. The first was Nursi's effort to protect against materialism, on the one hand, and fundamentalism, on the other. Gülen, like Nursi, wanted to combine the best of scientific reasoning, shorn of its materialist reductionism, and best of Islamic tradition, shorn of the equally reductionist literalism and moralism of emerging Islamist fundamentalism. Second, Gülen followed Nursi in establishing small-group reading and discussion circles. Such small group reading and discussion circles continue to be at the heart and soul of the Hizmet movement down to today. Third, Gülen drew from Nursi a tripartite diagnosis of the problems facing modernity. According to Nursi, and Gülen:
Our three great enemies are ignorance, poverty, and [conflict or violence.] ... Ignorance can be defeated through education, poverty through work and the possession of capital, and [conflict and violence] through unity, dialogue, and tolerance. As the solution of every problem in this life ultimately depends on human beings, education is the most effective vehicle, regardless of whether we have a paralyzed social and political system or we have one that operates like clockwork.[25]
Was the young Gülen an anti-Communist?
Mr. Gülen probably inherited from his family no great love for Russia. The proximity of the Soviet Union to Erzurum, and the history of Russian incursions there, made Anatolian Turks suspicious of, if not outright hostile to, the Great Bear to the North. Some Turks organized to prevent Russian influence in the Turkish Anti-Communist League (TKMD). It was a time when you were either a Communist or an anti-Communist. Gülen, as a devout Muslim, fell toward the latter group. Although being anti-anything was hardly Gülen's primary aspiration, he was briefly a part of the discussion in the 1950s about whether to establish a branch of TKMD in Erzurum. The discussions went nowhere, and Gülen had little to do with anti-Communism throughout the rest of his life.
The TKMD of course had roots in the Cold War struggle between East and West. Some Turkish anti-Communists also reportedly had support from the West for counter-insurgency activities. Conspiracy theorists, naturally, find in Gülen's brief participation in discussions about opening an anti-Communist League a smoking gun of his pernicious political persuasion. It is true that there is very little in Gülen's thought, even in his early writings, that might be perceived as friendly to State-driven, Khrushchev-style Communism. But it is also true that there is little if anything that is overtly hostile to Russia, or to Marxism as a political ideology, for that matter.
Naturally, as a Muslim, Gülen was no fan of Soviet atheism. So, if he was an anti-Communist—and that should be a very large IF, he was so for reasons of geography, history, and theology—more than politics. That Gülen dabbled in this overtly political League early in his career, and that this dabbling happened to coincide with American interests, was probably a coincidence. There is no evidence of anything more to it. For instance, many of the TKMD participants went on to establish the right-wing Nationalist Action Party (MHP) in 1969. Gülen had nothing to do with that development.[26]
Military coup leads to first arrests
Gülen reported for mandatory military duty on November 11, 1961—and completed his service in 1963.[27] Turkey had suffered a military coup on May 27, 1960—and the instability and fall-out from imprisonments and executions across Turkey trailed Gülen during his service. He was posted to Ankara for eight months, and then completed his service in Iskenderun. During the latter appointment, he served as a radio operator, but also preached at local mosques. After one of these services, a regional newspaper reported on his preaching in a way that aggravated authorities—a pattern that would happen repeatedly in his life. He was arrested, and he was detained for ten days "as a disciplinary measure," after which charges were dropped.
Shortly after this encounter, Gülen was hospitalized for exhaustion and malnutrition. He was sent home to his parents to recuperate, who were living at the time in Erzurum. Upon his return, Gülen was befriended by a Commander who came to hear him preach, and who recommended that he read "Western classics;" advice that Gülen took to heart. Other commanders were not so friendly. He continued to preach at various mosques, drawing large crowds wherever he went, but completed his service under somewhat of a cloud.
After another brief vacation in Erzurum, Gülen returned to Edirne, where he served as a teacher and preacher at Dar'ul Hadis mosque—again drawing avid students and listeners. Gülen was by now routinely surveilled by police. In late 1964 the police raided the mosque and detained many people, including Gülen. The charge against him was of inciting revolution and violence. His case came to trial and witnesses testified for and against him. Gülen spoke in his own defense, asserting that there were many present in the courtroom who had heard him preach on behalf of "peace, harmony, and safety," and who had heard him affirm that "it does not become Muslims to incite disorder." Many of the witnesses against him were caught in contradictions. Eventually, he was exonerated and all charges were dropped. But the provincial administrators now clearly had Gülen on their radar, less because of anything he actually said (had they bothered to listen), than because of the huge crowds he was drawing.
Gülen would experience this pattern repeatedly in his life, usually in the wake of a military coup: arrest and detention, release after no evidence of any crime could be identified, followed by ongoing harassment and surveillance.
Engaging women in education
One of the ongoing questions about Mr. Gülen and the Hizmet movement has to do with the role of women: are women full participants? Men often play many of the public roles in the Hizmet movement, and yet Mr. Gülen has consistently advocated for the full inclusion of women in society, and especially for opening of all educational opportunities to women. Women's full equality has been his frequently-stated commitment:
With regard to humanity and human relationships with God, there is no difference between men and women. They are equals concerning their rights and responsibilities. Woman is equal to man in the rights of freedom of religion, freedom of expression, freedom to live a decent life, and freedom of finance. Equality before the law, just treatment, marriage and founding a family life, personal life, privacy and protection are all rights of women. Her possessions, life and dignity are assured like that of men. Yes, woman is free and independent
before the law.
And not only before the law. Women can and should make the law: "There's no reason why a woman can't be an administrator," he said in an interview in 1995. "In fact, Hanafi jurisprudence says that a woman can become a judge."
Public education during Gülen's time in Turkey was, officially, opened to all. In fact, the policies were dictated by the statist elitist establishment, and they existed especially to benefit those connected to that establishment (notably the sons of military officers and bureaucratic elites). It was hardly a level playing field for women, and Turkey was (and is) a deeply patriarchal culture.
Nevertheless, journalist Sevgi Akarçeşme, who was fired from her position as Editor-in- Chief of Today's Zaman (the English-language version of Zaman), put it well in an interview with me (while she was still working in Istanbul): "By any standard, the movement has been above" the Turkish norm, she said. Gülen had the capacity of "turning a regular Anatolian xenophobic, racist, sexist person into somebody who believed in the possibility of faiths talking to each other, accepting the other as other, and advancing women's rights."[28] The evidence of this is found in the many accomplished women in the Hizmet movement who have worked all over the world as teachers, administrators, and scholars of arts and sciences, including some who have been prayer leaders and Qur'an teachers.
From Chapter Two: We Were Young, Izmir – 1966-1971
Nonviolent practices – living for a cause in a violent Turkey
Scholars are coming to recognize that the human brain has evolved slowly from its animal habits of fight-flight into something recognizably human and sociable. Human civilization was shaped indelibly by religious practices, and one intriguing avenue of scientific exploration is the study of the ways religious practices have contributed to the evolution of the human brain. Functional MRI studies of Buddhist monks indicate that when meditating, the regions of the brain connected to sociability and attention light up, while those connected to aggression remain dormant.[29] It is likely that future studies will find similar results with other religious practices, such as prayer, pilgrimage, fasting and feasting. Religious practices have produced inner peace for humans for millennia. They may also be the deepest potential source of social peace.
Mr. Gülen sought to revive religious practices in Izmir when he arrived there as a young preacher in 1966. He served primarily as a teacher at a Qur'an school, but he also preached regularly at Kestanepazarı mosque, and he began summer camps for youth at a nearby forest (Buca). Through these initiatives, he engaged youth in what I describe as "living for a cause." Turkish militarism and nationalisms around the world were engaging young people in "dying for a cause," against which young people were protesting. In fact, Turkey itself was a violent society at the time, with leftists, nationalists, and Islamists of various stripes battling it out in the streets.
Mr. Gülen channelled the rage of youth and the disagreements of political factions into the patient peacebuilding of prayer and other nonviolent practices. As he wrote: "Salah [prayer] … [is when] patience is put into practice. … It is also the most appropriate and propitious ground for social agreement and harmony and the clearest sign of the formation of a Muslim community." In other words, prayer brought peace internally, and could create peace in community. It was this experiment in nonviolent practices that Mr. Gülen initiated in 1960s Turkey, and it was the lure of the excitement and integrity of this experiment—in contrast to the violence of the political groups— that drew many youths to Mr. Gülen.
The significance of sohbets—building social capital in small groups
One of the practices that Mr. Gülen encouraged was to gather in small "reading circles" for a "conversation" (sohbet, in Turkish), made up of from five or six to several dozen people. These sohbets could range from more formal lecture-discussions to more informal seminars, but they became crucial ways that people inspired by Mr. Gülen learned to trust each other and to develop what Harvard sociologist Robert D. Putnam dubbed social capital.[30] In ways found in many Christian groups, such as the Pietists in 17th century Europe and the Quakers in 18th century England, gathering together in small groups generated trust. One Hizmet participant, a young woman, put it this way:
Being involved in these [service] activities with people who share the same values has changed my life for the better because it makes me feel like part of something big and important instead of feeling alone and isolated. … We motivate each other and help each other to sustain our conviction and our dynamics. … [Few of our goals] are a one-person job, [so] this is where a few set of hands, legs and brains come in very handy![31]
That quote describes social capital in a nutshell, and it is what Mr. Gülen inspired people to cultivate in small group sohbetler wherever they gathered. The readings in these circles would be drawn from the Qur'an, from the writings of Kurdish theologian Said Nursi, from the writings of Gülen himself, or from some other contemporary source. They would be led by different individuals, and everyone was encouraged to contribute to the conversation. The sohbets thus encouraged mutual consultation and support—an important grassroots organizing principle known as istişare.
Converting Ideological Polarization
People were drawn to Mr. Gülen for diverse reasons. But to many, Mr. Gülen's teaching and preaching of Islam enabled them to transcend the usual ideological polarizations that were found in Turkish party politics. Mr. Yusuf Pekmezci was a small business-owner who became acquainted with Mr. Gülen during his years in Izmir. He was a right-wing nationalist—and regularly organized gangs of young men to go into the streets to protest, and, as necessary, fight against the Communists. Mr. Pekmezci recalled that as one of these marches was beginning in the streets of Izmir, Mr. Gülen asked him why they were fighting, against whom? Mr. Pekmezci replied that they were fighting "against leftists." And, "why are you fighting against them," Mr. Gülen asked? Mr. Pekmezci recalled that Mr. Gülen then said:
We're all brothers; there are rightists and there are leftists. If you don't want a leftist, it's like you don't want half of the body that God has created for you. Don't you want your left ear and your right ear? If you don't want your left ear, maybe you should cut it off. Throw it away. Live with just your right side. In God's creation, there's a right side and a left side. We're all people. We must see the dignity in each other. Brother—think![32]
Mr. Pekmezci became one of the founding members of the Board of Trustees that would eventually build the first Hizmet school in Izmir in 1982. As set out above, the trustees (mütevelli) operate on a local level with no central organization regulating all Gülen- inspired schools.
The Hajj pilgrimage in 1968 expands Mr. Gülen's horizons, and sets an example for hizmet
Mr. Gülen was raised provincially. His horizons were broad theologically because of his Sufi education, but culturally, at least, he was limited to Turkey. It was his participation in the pilgrimage (Hajj) to Mecca in 1968 that helped to expand his horizons. Mr. Gülen was invited to make the pilgrimage as a delegate for the Presidency of Religious Affairs (the government bureaucracy responsible for the training, certification, and support of all imams and preachers). This invitation indicates the growing stature that Mr. Gülen was gaining across Turkey. He went in the company of a group of business leaders from Izmir, including Mr. Pekmezci. Gülen's reflections on his experience suggest it was intense and transformative. He described experiencing time being compacted, which makes sense given the ancient practice and the ancient objects present throughout the pilgrimage (notably the Ka'ba, which dates according to Islamic lore to Abraham). He also reported a renewed sense of gratitude after making the pilgrimage. "Every kind and act of worship," Mr. Gülen wrote, "is gratitude to God in return for the bounties He has bestowed upon us." His participation in the Hajj appears to have freed Mr. Gülen from some parochial "Turkishness," and to have set his horizons on broader cultural interactions through service (hizmet).
A 2008 Harvard study, "Estimating the Impact of the Hajj: Religion and Tolerance in Islam's Global Gathering," found that the Hajj increased tolerance and sociability among pilgrims—and this was Gülen's experience.[33] Over the decades, travel to other countries became a crucial element in the lives of many people inspired by Mr. Gülen—and not only to the Hajj. Hijra (migration) for Hizmet became common as individuals emigrated to over 140 different countries to establish educational and dialogue activities there, setting up "islands of peace," as Mr. Gülen called them, similar to the one he experienced in his first Hajj in 1968 in the sacred city of Mecca.
Ramadan teaching as raising spiritual and extending hospitality
Just as Mr. Gülen inspired people to pray and to make pilgrimage, so too did he inspire them to the month of fasting that is Ramadan. At the core of this intense devotion is bodily discipline—self-discipline that attunes one to the divine, but also that prepares one to recognize the dignity of others. As described by Mr. Gülen, Ramadan is less a duty than an opportunity—to intensify the experience of God and to extend hospitality to others. He encouraged people to "invite their neighbors to a fast-breaking dinner, no matter what their philosophy of life is."[34] This expression of hospitality became widespread among people inspired by Mr. Gülen. Iftar or fast-breaking dinners during Ramadan became common practices, both in individual homes, and then sponsored at hotels or other venues holding thousands. For individuals, fasting brought peace within by the self- discipline of prayer, and communally Ramadan was an occasion for the expression of peace in the community, by bringing diverse people together to break bread and grow mutual trust. Iftar dinners became common features of the Hizmet movement in locales all over the world.
Reviving zakat—a renewal of charity and altruism in Turkish Islam
A fifth "pillar of Islamic" faith is zakat—altruistic charity, and just as Mr. Gülen inspired people to confess faith in God, to pray, to make pilgrimage, and to fast, he also inspired them to altruism. In most Islamic countries, zakat is in the form of a tax of 2.5 percent on income. For many people inspired by Mr. Gülen, zakat also took the form of himmet— voluntary contributions above and beyond this 2.5 percent to fund educational and other enterprises.[35]
It was during his years in Izmir that Mr. Gülen encouraged individuals to set up independent foundations (vakıf) of trustees (mütevelli) to underwrite and to administer educational and other enterprises.[36] Initially, and throughout the years and around the countries that people practiced hizmet, these foundations administered real estate—building or buying dormitories for students coming from rural areas into urban colleges and universities. These "houses of light" (ışık evler) became ways for students both to secure good education and live in a community of mutual support. Such "specialized" dormitories are now common features on many college campuses—with dorms for athletes, for foreign language students, and so forth. But it is important to note that one of the first ventures into hizmet among people inspired by Mr. Gülen was in the area of real estate.
1971 coup and Mr. Gülen's arrest
On 12 March 1971 another military coup shook Turkey.  Mr. Gülen was arrested on May 3, 1971, charged with "carrying out propaganda to undermine the secular Turkish State and replace it with a religious one." Mr. Gülen had made no political claims, sought no political office, and supported no political candidates. He had, of course, encouraged religious practices—but these were the pillars of Islamic faith practiced everywhere, and that the Turkish government in fact supported. Mr. Gülen was, after all, a state-appointed imam and preacher. His aim in encouraging the practices of prayer, fasting, and so forth was to strengthen individual faith and to transcend ideological division—which unfortunately made him susceptible to ideologues who distorted his teachings for partisan political purposes. Mr. Gülen was released in November 1971, and the charges against him were dropped three years later in a general amnesty, as political winds again changed. This pattern would repeat itself. For politically-motivated actors, Gülen was a suitable scapegoat who could be imprisoned or attacked to bolster a fragile hold on power, even absent any actual evidence that he was such a threat. Such accusations would be believable to ill-informed or biased observers. Ironically, people inspired by him continued patiently to practice their faith, and to meet in small groups for study and mutual support. The practices of hizmet thus expanded in Izmir and, increasingly, across Turkey. This pattern, too, would repeat itself: repression resulted not in eliminating hizmet, but in bolstering its public integrity and clarifying the commitments of individuals inspired by Mr. Gülen to nonviolence, education, and dialogue.
From Chapter Three: Empathy and Tears, The Aegean, 1971-1980
Mr. Gülen's decision to remain unmarried
Mr. Gülen chose to remain single, despite pressure from his parents to marry. It was (and still is) a common practice in Turkey to arrange marriages for children—and Mr. Gülen's parents had several attractive offers to arrange a marriage for their oldest (and increasingly prominent) son. But Mr. Gülen resisted these offers, telling his parents that he had already "tied the knot in service (hizmet) to Islam," and that if he tied the knot with a wife, too, he wouldn't be able to move.
Mr. Gülen's decision to remain unmarried had precedent, although historically there has also been a degree of suspicion of celibacy in Islam (another element rendering Mr. Gülen subject to slander). There had been unmarried sheikhs and scholars in Islam such as al-Bistami (d. 874) and Ibn Taymiyyah (d. 1328). His life would follow these precedents. Mr. Gülen's principled decision to remain single suggests the ethical integrity at the core of his teaching, and it has been one of the elements of "sacrifice" that has made him an exemplar to many.
Ghurba—loneliness and alienation in Islam
Behind Mr. Gülen's choice to remain single is his broader choice to live a simple life. He has always lived in rented rooms—at best. During his years in Edirne, he lived in the window box or vestibule of a mosque, and in Izmir he lived in a single-room plywood shanty. His lasting possessions include a single bed, a desk, and a few books.
Behind this emphasis on simplicity is the Sufi teaching of ghurba—which can be translated variously as "loneliness, separation, alienation, or sadness." Within Sufism, this state is recognized as a norm for humanity, much in the same way that in Buddhism the First Noble Truth is that "life is suffering."
For Mr. Gülen, Muslims can embrace ghurba, and through it discover the grounds for authentic community. He put it this way: "Islam began helpless and with the helpless and those treated as outlandish and outsiders, and it will return to the same condition of helplessness and being represented and revived by those who will be treated as outlandish and outsiders. Glad tidings to the outsiders who try to improve in a time when all [others] are engaged in destruction and corruption. … Those who feel this separation [ghurba] rise to friendship with God, without ever feeling themselves completely alone."[37]
Q&A sessions with college students—no discussion of politics or individuals
One of the key initiatives begun during the years when Mr. Gulen was traveling throughout the Aegean region to preach was a series of Q and A sessions with college students. These were held primarily in Izmir. Mr. Gülen would take questions on any topic, with two exceptions: he refused to answer questions about individuals, and he refused to take questions about politics.[38] These exclusions were both principled and prudential. The principle was to preserve the integrity of Mr. Gülen's role as a teacher of faith and preacher, not as a politician. The prudential reason was to avoid entanglement with authorities who already suspected that he had political intentions. Looking back, Mr. Gülen set the context in the conflicts of 1970s Turkey, and explained his approach:
Many people were killed in Turkey. This group killed that person, another group killed another person. … Some people were trying to reach a goal by killing others. Everybody was a terrorist. The people on that side were terrorists; the people on this side were terrorists. But everybody was labelling the same action differently. One person would say: "I am doing this in the name of Islam." Another would say: "I am doing it for my land and people." A third would say: "I am fighting against capitalism and exploitation." These were all just words. The Qur'an talks about such "labels." They are things of no value. But people just kept on killing. Everyone was killing in the name of an ideal. … [But when such] anarchy was everywhere in our country, I called for calmness and controlling of anger. I had received death threats, yet, I called upon my admirers to continue working for peace. … Regardless of what happens, we believers should be representatives of love and security.'"[39]
Mr. Gülen on "jihad"
In contrast to the way Islamists would (in coming years) exploit the category of "jihad" to justify acts of killing innocents and suicide bombings, Mr. Gülen already in the 1970s was patiently explaining that such an understanding or application of jihad violated the central teaching about jihad in Islam. According to Mr. Gülen, evident in many publications, there are two kinds of jihad in Islamic teaching: a "lesser" and a "greater" jihad. The lesser jihad is the well-known idea of "holy war, which Mr. Gülen explains must be authorized by a legitimate authority and fought for defensive purposes. The doctrine is akin to the Christian teaching of "just war."[40] The "greater jihad" is:
based on overcoming obstacles between oneself and his or her essence, and the soul's reaching knowledge and eventually divine knowledge, divine love, and spiritual bliss. … The lesser jihad is material. The greater jihad, however, is conducted on the spiritual front, for it is our struggle with our inner world and ego (nafs). … proclaiming war on our ego's destructive and negative emotions and thoughts (e.g., malice, hatred, envy, selfishness, pride, arrogance, and pomp) which prevent us from attaining perfection.
In short, jihad for Mr. Gülen is, in keeping with the orthodox and especially Sufi teaching, not a sanction for violence, but rather a counsel of nonviolent struggle to eliminate ego from driving life-decisions and behavior.
Abis and Ablas—brothers and sisters in Hizmet; growing trust
As Mr. Gülen's fame began to spread throughout Turkey, informal networks of people inspired by him began to develop. As sociologist Joshua Hendrick observed, these networks were "loosely configured," and were marked by relationships of trust between "ağabeys (abis)" or "older brothers" and "ablas" or "older sisters" who undertook to mentor younger students. It is impossible to overestimate the importance of personal relationships and trust as the "social glue" that bound people to Mr. Gülen and to Hizmet.
These relationships were (are) always voluntary. People could choose to end them as they would with any other friendships. Many of the young people who came to Universities from the Anatolian countryside in the 1970s and 1980s were first generation college-students, and the existence of "safe" houses and trusted tutors and mentors was crucial in cultivating educational opportunities for new generations in Turkey. In other words, the initiatives that Mr. Gülen and his closest associates put in place—dormitories, camps, tutoring centers, and scholarship programs, helped to democratize Turkey.
Mr. Gülen and a growing number of abis and ablas created opportunities for hitherto excluded groups to participate in civil society, and especially in higher education. This was the case notably for rising middle-class and devout Muslims. Not surprisingly, this populist awakening drew resistance from the secular elite. But the changes were systemic, and inexorable. Eventually, hundreds of tutoring centers and dormitories were staffed by thousands of abis and ablas who helped to assist young people from underprivileged backgrounds. These informal relationships between abis, ablas, and gifted-but-poor young people were (and are) at the heart of the community of individuals inspired by Mr. Gülen. If there was a "charismatic" leadership to the movement, then, it was shared charisma, diffused and localized as "brotherly" and "sisterly" love. These organic relationships that began to emerge in networks in the 1970s eventually grew into the start-up culture of Hizmet that spread around the globe.
"The Hodjaefendi Method" of Leadership Development
One woman who experienced the benefit of a trusting relationship with an older sister while in college, and who eventually became an abla herself, described the pattern of mentoring relationships as the "Hodjaefendi Method" of leadership development ("Hodjaefendi" or "honored teacher" is a term used by some people to describe him; it is a common term of endearment for teachers in Turkey). This woman described the "Hodjaefendi method" as follows: "You offered them some duties. You put them in charge—and by doing so, you learn. You learn by doing. That's [how] I learned. As you are concerned about others' inner struggles, you learn about your own. As you're fixing their spiritual houses, you discover how to fix your own. As Mevlana [Rumi] said: 'Care for others paves the way for you.'"[41]
Preaching tours across Turkey, and to Germany in 1977—deepening appreciation for democracy
Mr. Gülen's sermons had been tape-recorded and circulated since the mid-1960s, and his sermons and lectures were increasingly finding their way into publication. On the basis of these recordings and publications, he began to receive invitations to preach at some of the most prestigious mosques in Turkey, and he also received his first overseas invitation—to visit the growing Turkish immigrant community in Germany, which he visited in 1977.
Out of this experience of travel to many Turkish sites, and his first visit to Europe, Mr. Gülen deepened his appreciation of the capacities of ordinary people to organize and to find a voice, and to practice a kind of Islam that avoided political entanglements, insofar as possible. He reflected on what he learned from this trip to Germany (and a later visit to the U.S. in 1982) as follows:
I realized the virtues and the role of religion in these societies. Islam flourishes in America and Europe much better than in many Muslim countries. This means freedom and the rule of law are necessary for personal Islam. Moreover, Islam does not need the state to survive, but rather needs educated and financially rich communities to flourish. In a way, not the state but rather a community is needed under a fully democratic system.
"I seek refuge in God from Satan and politics"—the 1980 coup
Said Nursi had once said—in what became a famous phrase in Turkish folklore: "I seek refuge in God from Satan and politics."[42] Mr. Gülen followed Nursi, and he avoided political entanglements as far as possible. He certainly had opportunities for political involvement, had he sought them. People flocked to hear Mr. Gülen preach throughout the 1970s, overflowing mosques—which often set up loudspeakers outside so that people could hear his sermons from the streets.
By the 1970s, Mr. Gülen had preached in Istanbul's Sultanahmet Mosque (The Blue Mosque) and other prestigious mosques in Turkey, often with politicians (including the Prime Minister) in attendance. Clearly, he had harnessed considerable social capital; would he translate that into political capital? He did not. In 1980, as rumors of yet another military coup began to circulate, Mr. Gülen requested a "Leave of Absence" from preaching on September 5, 1980. On September 12, General Kenan Evren ordered tanks into the Turkish streets, and then took over the state-run media to declare a coup. On the day of the coup, Mr. Gülen's house was raided—but he wasn't present. What ensued was six years of cat-and-mouse political theatre with the military junta. He was put on a "most wanted" list, along with hundreds of others. Eventually, over 100,000 were jailed, nearly 2,000 faced the death penalty, and fifty were executed. Mr. Gülen was, again, exonerated of any wrong-doing.[43]
From Chapter Four: Melancholy and Dialogue, Istanbul—1980-1999
On the run, and growing Hizmet across Turkey—founding schools
Mr. Gülen's "Leave of Absence" would keep him out of the pulpit for six years, as he stayed on the run in Erzurum, in Izmir, and in safe houses that friends had established in locations all over Turkey. He often "hid in plain sight," including in a well-known location in the Altunizade neighborhood in Istanbul, where students came to study with him and where other people came to seek his advice in consultations. But on occasions he would be forced to flee, and he would escape after being tipped off by friends that a raid was about to occur.
In these efforts to repress hizmet by disrupting the life of its "leader," the military junta ironically contributed to its growth. Mr. Gülen went on a tour of sorts among friends all over the country, where he expanded networks of trust, and where he was able to encourage people to initiate enterprises such as dormitories and tutoring centers—which by 1990 numbered in the hundreds across Turkey. These six years established a pattern that would repeat itself: the government would scapegoat Mr. Gülen and seek to squash hizmet, but by patient persistence in müspet hareket—consistent "positive action," Mr. Gülen and the people he inspired actually increased their numbers and influence across Turkey.
Despite military oppression by an authoritarian regime, people worked patiently to advance hizmet. The first school built by people inspired by Mr. Gülen was founded in 1982—Yamanlar High School in Izmir. Fatih High School in Istanbul followed within a year. As Dr Hendrick documented, both schools eventually became institutions with multiple campuses, and both also gained recognition for excellence—regularly sending students to the most prestigious universities in Turkey. Again, these schools were built with donations from local business leaders, and they were administered by a private foundation made up of trustees (mütevelli). Mr. Gülen played a role in encouraging and inspiring people to be generous with their time and talents, and he would occasionally appear at ground-breaking or dedication ceremonies.
Aside from these motivational and ceremonial functions, Mr. Gülen had little to no involvement in the day-to-day operation of these schools, which followed the secular curriculum of the Turkish Republic, and that sought to cultivate excellence especially in science and mathematics. There was little to no mention of Mr. Gülen at the schools—in part because of Mr. Gülen's personal modesty; in part as a prudential decision to allow Mr. Gülen's influence to work by example through the commitment of teachers and administrators, many of whom were personally inspired by Mr. Gülen's teaching and preaching. Within the decade, dozens of schools from nursery-age to universities had been established by people inspired by Mr. Gülen all over Turkey.
Succeeding "for the pleasure of God"
In Mr. Gülen's teaching, the goal of life was not just to garner personal success for ego- gratification. In fact, the goal was to do everything "for the pleasure of God." This theological horizon made it easier to endure difficulties. As Mr. Gülen explained:
One can have no greater reward or higher rank than God's being pleased with him or her, which is only attainable by personal resignation to what [God] has decreed. "God has promised the believers, men and women, Gardens through which rivers flow, therein to abide, and blessed dwellings in Gardens of perpetual bliss, and greater is God's being pleased with them. That indeed is the supreme triumph" (9:72). … As the greatest rank in God's sight, resignation or God's pleasure is a final target that has been sought by the greatest members of humanity, from the glory of creation [Muhammad], upon him be peace and blessings, to all the other Prophets, saints, and purified scholars who have passed the final test through sincerity, certainty, reliance, surrender, and confidence. They have surmounted many difficulties and obstacles, and bore many unendurable sufferings and torments."
Dr. Hendrick has not, to my knowledge, ever used the language of FETO to describe the Hizmet community. Neither has he ever described Mr. Gülen as a terrorist. His "neutral" perspective, as acknowledged by the Respondent, in fact recognizes the central work of the people inspired by Mr. Gülen in education and social enterprise. Mr. Hendrick badly misunderstands the religious dynamics at the heart of Mr. Gülen's thought, reading him through a political and economic frame. But he has never, to my knowledge, used the language of "terrorist" for Mr. Gülen or the Hizmet community.
Such a motive was communicated to students at Hizmet-inspired schools through the example of teachers and administrators who quickly developed reputations for being particularly dedicated and disciplined. As Dr. Hendrick explains:
In a conservative Istanbul neighborhood called Fatih, followers of Fethullah Gülen incorporated a pre-existing private dormitory into a new private educational institution. In 1982, just after the opening of Yamanlar, Çag Öğretim Işletmeleri (Era/Age Educational Enterprises) opened Fatih Koleji. In its first year, Fatih sent over 85 percent of its senior class to prestigious universities in Turkey. By the late 1980s, Fatih graduated some of Turkey's highest-performing students on the [college entrance exam]. By 2007, Fatih College was known as one of the most reputable private education institutions in Turkey, managing six primary schools, three high schools, and five dormitories. Like their counterparts at Yamanlar, students at Fatih College in Istanbul (as well as students at numerous [Hizmet- related] private high schools throughout Anatolia) spent the 1990s and 2000s continuously winning national and international science and math competitions.[44]
Joining Yamanlar and Fatih, in short order, were Hizmet-related school networks such as Samanyolu in Ankara, Aziziye in Erzurum and Serhat in Van, among others.
The rationales of those who founded these schools were theological, even if the schools themselves were secular in nature. Educating children was serving God. The community gathering around Mr. Gülen was a theological community, even while its educational aims and accomplishments were secular by law and intention.
Of course, students were motivated to succeed (few have actively sought failure, after all), and of course students sought to accrue awards or to win competitions that reflected well on themselves and their parents. But the community mattered too. That's why students routinely deferred recognition of their accomplishments to the work of their teachers: it was community that mattered more than one's ego-accomplishments. This may be difficult for Western readers, and particularly Americans and Europeans raised with both individualism and striving privilege as our lifeblood, to comprehend. But in students' own words, they were striving not just for secular success, but to realize something encompassed by an Arabic term that was central in the practice of Sufism: rıza-i İlahi— succeeding for the "pleasure of God." Mr. Pekmezci—present for the founding of Yamanlar, said this about Mr. Gülen, and why people were attracted to him: "He did not care for money or possessions; he only cared about rıza-i İlahi."
Media efforts—Sızıntı magazine, Zaman newspaper, Samanyolu television
Media in Turkey had for most of the history of the Republic been carefully controlled by the State. Under the liberalizing regime of Turgut Ozal (Prime Minister, 1983-89; President 1989-93), who was generally friendly to Mr. Gülen, new media ventures were begun by people inspired to hizmet. Sızıntı was published in 1979 as a monthly magazine to explore the interface between science and religion—one of Mr. Gülen's crucial interests. Then, in 1986, the inaugural issue of a new newspaper, Zaman ("Time"), was published by people inspired by Gülen. Not surprisingly the paper was friendly to Islam. Mr. Gülen wrote occasional opinion pieces, and articles depicting his dialogue activities favorably appeared (as they did in many Turkish papers), but the editorial operations were independent. The newspaper quickly grew into a respectable alternative to Cumhuriyet, another major newspaper founded in 1924 and generally perceived as the vehicle of the Kemalist (and anti-Muslim) establishment. In the early 1990s, Zaman hired an increasingly professional staff trained in journalism programs in the U.S. and Turkey, and the newspaper's subscriptions increased dramatically. Between 1986 and 2007 the paper grew tenfold to become Turkey's most widely circulated newspaper, with stated subscriptions of over a million.
Other media ventures emerged throughout the late 1980s and into the 1990s, including Samanyolu TV network in 1993, the influential Journalist and Writers Foundation in 1994, and Cihan News Agency, also in 1994. The latter was a parallel to the Associated Press in the U.S., and before it was shut down by the Turkish government in 2016, it employed over 500 men and women, and had branch offices or correspondents in Central Asia, the Middle East, the Balkan States, Europe, South America, Africa, and the Far East, including global hotspots like Gaza and Kabul.[45]
It was an astonishing flurry of activity by people acting as social entrepreneurs—seeing an opportunity for ventures, seeing social need, and organizing to meet that need in an economically-sustainable fashion. As historian Hakan Yavuz puts it in a succinct compression: "In addition to the newspaper Zaman, the Gülen movement ... launched a national television channel, known as Samanyolu, and popular radio stations such as Dünya (World), and Burç (Tower). The movement also [published] Sızıntı (a scientific monthly), Ekoloji (an environment-related magazine), Yeni Ümit (a theological journal), Aksiyon (a weekly magazine), and The Fountain (English language religious and scientific publication)." In fact, it is not entirely accurate to say that "the Gülen movement" launched these ventures. Individuals were encouraged and inspired by Mr. Gülen to put their talents to work in media ventures, but there was strictly speaking no "movement" to "launch" these ventures. They were launched by individual entrepreneurs and administered by diverse and differentiated foundations and other corporate structures that operated independently. Communication between them was through loose associational networks of abis and ablas.
Third pilgrimage—charges against him; and offer to stay in Mecca
As somewhat of a testament to Mr. Gülen's growing stature both within Turkey and around the globe, he made his third pilgrimage to Mecca in 1986 in the company of at least one member of Parliament, Mr. Arik Hikmet. While in Mecca, news arrived to Mr. Gülen of shifting political winds that had once again resulted in a warrant for his arrest on a charge of "eroding secularism." The case is telling in the way it anticipated the "guilt by association" that would haunt Mr. Gülen and people inspired by him in the future. It centered around the actions of a man named Mr. Mehmet Özyurt, who was at the time an imam in Diyarbakır in Southeastern Turkey.
Mr. Özyurt had been the imam at Bornova in 1976 where Mr. Gülen had served as preacher, and the two were close (Mr. Gülen wrote a eulogy when Mr. Özyurt died in a traffic accident in 1988). In July 1986, Mr. Özyurt was working in Diyarbakır, where he was arrested along with two of Mr. Gülen's associates—Yahya Kaçmaz and Ahmet Kuş. A journalist had reported that the three planned to establish a "United Islamic Republic" in Turkey—a ludicrous charge; Mr. Gülen has never envisioned such an entity, and neither have people inspired by him. But Mr. Gülen was linked to the three and a warrant was issued for his arrest.[46] Such a warrant of course would have made his re-entry into his native land challenging, if not impossible.
As this news reached Mr. Gülen in Saudi Arabia, he discussed it with his travel companions and his hosts. He could not return to Turkey without facing arrest. He had been avoiding exactly this prospect for six years, and he had thought that Mr. Turgut Özal's relatively friendly administration had put this fear behind him. According to one source, Mr. Gülen was then offered the opportunity to stay in Saudi Arabia. As this source recalled it, Mr. Gülen replied to the offer to house him in the holiest lands of Islam with the following words, more or less: "No, thank you very much for your offer, but if I don't return it could be taken to mean that I am accepting the crime I am accused of. In addition, I set out on this path to serve others. The people of Anatolia are waiting for me. I have to go back." So, he went. He traveled by land, through Syria—on foot some accounts have it, crossing over into Turkey via Kilis on the Syrian border, and traveling incognito to the relatively friendly (or at least familiar) city of Izmir—where he surrendered to the police. In Izmir, after a brief statement was taken, he was released. Shortly thereafter, the charges against him were dismissed. It would be December before Mr. Özyurt and the others were also exonerated.[47] But the pattern that would become sadly common for Mr. Gülen once again held—accusation of guilt-by-association on a trumped-up charge with no evidence to support it, and eventual release and vindication.
Final years of public preaching: The Prophet Muhammad's example of hoşgörü
Mr. Gülen returned briefly to preaching in 1986, then went on hiatus again for three years, and finally returned to the pulpit in 1989. For over two years, from January 13, 1989 to June 16, 1991, he preached at least weekly, and often twice per week, in mosques in three major cities of Turkey. His most frequent pulpit was Üsküdar's Valide Sultan Mosque, on the Asian side of Istanbul. But over the next months, he would also preach at Sinan's 16th century masterpiece, Süleymaniye, and at the gorgeous 17th century mosque at the heart of The City, Sultanahmet (the Blue Mosque).
His sermons at the latter sites became increasingly common in the early 1990s, as did a pattern of preaching in Istanbul on Fridays, and Izmir on Sundays. In Izmir, he usually preached at two famous mosques—Hisar and Şadırvan. Among the other sites Gülen visited to speak at were Istanbul's Fatih (several times), Ankara's Kocatepe, in March 1990, and Erzurum's Ulu Mosque, in June 1990.[48]
These were the most famous mosques in Turkey. Kocatepe alone could fit 24,000 people. At each site, whenever Mr. Gülen preached, crowds packed the mosques. Local and national public officials were often in the audiences. People spilled out into the streets surrounding the venues; at Hisar Mosque in Izmir, and perhaps at other sites, video screens and loudspeakers were set up outside for people to see and to hear Mr. Gülen preach. Despite all this enthusiasm, and in part because of it, the situations were becoming unsafe. Bomb threats were not uncommon. Mr. Gülen was targeted by death threats repeatedly. According to sociologist Muhammed Çetin, "at the beginning of the 1990s, the police uncovered a number of conspiracies by marginal militant Islamists and other small ideological groups to assassinate Gülen," and these same groups also placed "agents provocateurs" to cause "disorder" among the massive crowds gathered to hear him.
That dynamic hastened Mr. Gülen's permanent retirement from public preaching in 1991. But over an intense eighteen-month period Gülen concentrated the attention of the many who followed him by preaching a long series (61 weeks) of sermons on the Prophet Muhammad (pbuh). Then, in June 1991, Mr. Gülen keynoted a symposium in Istanbul on the Prophet. The focus was impossible to miss for anyone paying attention. Mr. Gülen had concentrated on particular topics in his preaching before. But this was unprecedented; Mr. Gülen obviously thought Muslims in the 1980s and 1990s would benefit from a careful study of the life of the Prophet.
Now, Prophet Muhammad was hardly a controversial choice for a sermon series, or for a symposium. But, the 1979 Iranian revolution had showed one of the ways that Islam and the legacy of the Prophet could be applied in public life—by narrowing choices for people and by imposing theocracy (or mullah-ocracy). As interpreted by Mr. Gülen, however, following the Prophet Muhammad was not primarily a means to revel in Islam's glory days and to impose theocracy. Instead, the Prophet's way meant in fact that Muslims should be leaders in the practices of hoşgörü. That word is usually translated "tolerance," and literally means to "see nicely," but it means more strongly to accept others without judgement and to work with them on common projects. I call hoşgörü principled pluralism: when one is clear about one's own faith (principled), one can reach out to others to find common ground without judgment (pluralism). Or, to speak theologically, hoşgörü is to see all others as God saw them, with eyes of mercy and compassion. And that means opening-up options for people, not narrowing them. And that meant advancing democracy.
It was through hoşgörü, Mr. Gülen contended, that the Prophet had persuaded his closest Companions to join him in positive action in the early years of the Muslim ummah or community. It was through hoşgörü, Mr. Gülen preached, that Islam grew as rapidly as it did in the first glorious years of the tradition. And it was through hoşgörü, Mr. Gülen helped other Muslims to see, that hizmet could be activated in the modern world on behalf of a more just and peaceful planet. What followed from this sermon series was a dizzying array of new partnerships over the decade of the 1990s in Turkey and (increasingly) around the world: dozens of new educational initiatives and institutions, handfuls of new social business start-ups, and (especially) large public interreligious dialogue events. At the first of these events, held in 1995 at the Polat Renaissance Hotel on the Sea of Marmara in Istanbul, 1,000 attended. And Mr. Gülen spoke about hoşgörü as nonviolence: "We must be as if 'handless to those who hit us and tongueless to those who curse us.' If they try to fracture us into pieces even fifty times, still we are going to remain unbroken and embrace everyone with love and compassion. And, with love toward one another, we will walk toward tomorrow."
Dialogue activities, notably with Jews and Christians
The people who attended that first Iftar dinner in 1995 came regardless of ideology or religious affiliation. Journalist Ayşe Önal reported for the newspaper Akşam, "When I was invited to the Ramadan dinner given by the Foundation of Writers and Journalists ... I thought it would be for fifty or sixty people. However, from the moment I entered the Polat Renaissance Hotel, it was clear that ... this type of dinner had not been seen before in Turkey."
What made the dinner different was its diversity. Jews, Christians, and Muslims all mixed together. Secularists dined with Sunni and Alevi Muslims, and Greek and Armenian Christians broke the fast together with representatives of Turkish Islam. "Several women had been invited to this event," Önal reported. "Some were strikingly dressed; others were covered." Professor Ayhan Songar also recalled that the event featured "more than 1,000 writers, members of the arts, and scholars. ... As the time to break the fast drew closer," Songar reported, "everyone was very quiet, as if not to disturb the moment's sanctity. Talking was done in whispered tones. Only the sweet sound of a nay (flute) from the loudspeakers filled the hall and added exhilaration to our hearts. It was as if Rumi was there, and the nay was 'complaining of separation.'"
Professor Mehmet Altan, a university lecturer and journalist who used to write for the newspaper Sabah, reported that he was "amazed when I saw this meeting. It can be seen as a model of a multicolor, multivoice, pluralistic Turkey that we all desire." The event was, in many ways, an introduction of the real Fethullah Gülen—the advocate of hoşgörü, to many individuals who had hitherto only heard scandal or propaganda about him. Such large iftar dinners became common among people inspired by Mr. Gülen all over Turkey, and as hizmet globalized, in cities all over the world.
These public dialogue events were accompanied by significant bi-lateral dialogues between Mr. Gülen and Jewish and Christian leaders in Turkey and around the world. Mr. Gülen met several times and established warm relations with Jewish business leaders Uzeyir Garih and Ishak Alaton. The two were partners in Alarko Holdings—a Turkish business conglomerate with ventures in contracting, energy, industry, trade, tourism, and real estate development.[49] According to a biography of Alaton by journalist Mehmet Gündem, Garih and Alaton supported Hizmet activities after the two were convinced of Mr. Gülen's sincerity and commitment to dialogue and democracy. Mr. Gülen also met with the Chief Sephardic Rabbi of Israel, Eliyahu Bakshi-Doron, and met several times throughout the decade with Turkey's Chief Rabbi at the time, David Asseo, and with his deputy, Rabbi Ishak Haleva. Rabbi Haleva, in particular, came to appreciate Mr. Gülen's initiatives to promote hoşgörü. Rabbi Haleva gave Mr. Gülen credit for mediating between the Jewish community and various Turkish media outlets that "published inflammatory content against the Jews."[50] It was, and is, possible for demagogues in Turkey to stoke anti-Semitism to solidify support against a scapegoat—a pattern that ought to have ended in 1945. Nevertheless, within 1990s Turkey, Haleva also credited Mr. Gülen for having given a unified voice to the various religious minorities in Turkey.
From among Christian groups, Mr. Gülen met regularly with diverse Protestant representatives in Turkey, and engaged outreach especially with the Orthodox and Roman Catholic communities in Turkey. He established very warm ties with Patriarch Bartholomew I, the Phanariot Greek Patriarch of Istanbul, and with Georges Marovitch, the Vatican's representative to Istanbul. The latter led to a visit by Mr. Gülen with Pope John Paul II in Rome on February 8, 1998.
Mr. Gülen also met with both Metropolitan Bishop Yusuf Çetin and Bishop Samuel Akdemir, leaders of the Syriac Orthodox Church in Turkey. And he met, in a very significant overture, with Armenian Patriarch Karekin II and Armenian Patriarch Mesrob II. Mr. Gülen's attempt to build bridges between Turks and Armenians included an initiative to build a Hizmet-related school in Armenia.
As Mr. Gülen put it—"We say, 'Let us build tomorrow's intellectuals and architects of thought under the same roof. The Armenians were the most sincere community under the Ottomans. These current enmities are so contrived, and they do not offer us anything. Let us open schools in your countries   We cannot take these hostilities any further in an ever-shrinking globalized world. Let us turn these into friendships." Those were, in Turkey, and in Armenia, fighting words. None of Mr. Gülen's efforts to build bridges with dialogue partners was uncontroversial, but this one was a road too far. No schools were ever built in Armenia.
Another hot topic that Mr. Gülen engaged during these years was outreach to the minority Alevi (Shiite) community in Turkey—which had often been subjected to violence. "Alevi meeting or prayer houses should be supported," Mr. Gülen simply asserted. "In our history," he went on, "a synagogue, a church, and a mosque stood side by side in many places. This reflects the spirit of Islam and its inclusiveness." Such an attitude of inclusivity drew many to him, but also made him a target from all sides. As journalist Rıza Zelyut put it in Akşam in February 1998, some (mostly secularists) shouted "Who is this Fethullah Hodja? ... He is trying to save himself [by allying himself with Jews and Christians] because he is in difficulty."
Another attack came from what Zelyut described as "the backward wing," whose members asked: "Would a true Muslim ever accept Christians as friends?" Their answer, of course, was no. "Secularists, radical Islamists, and nationalists [were] all opposed," the journalist concluded, to one or the other of Mr. Gülen's efforts for interfaith dialogue. And yet he continued to encourage dialogue, and to demonstrate it as the most reliable way to make friends and build peace. This opposition to Mr. Gülen's dialogue activities may be one of the primary reasons the slanders about him and people of Hizmet have gained traction among some segments of the Turkish public.
Anti-racism, and outreach to Kurds
Part of Mr. Gülen's emphasis on dialogue also included anti-racism, including work in Africa, and especially outreach to the oppressed Kurdish community in Turkey. In an illuminating study, political scientist David H. Shinn has traced Hizmet in Africa: The Activities and Significance of the Gülen Movement. According to Shin, people inspired by Mr. Gülen built schools in Morocco in 1994, Senegal, in 1997, Kenya, Tanzania, and Nigeria in 1998, and then in short order schools in Uganda, Ghana, and South Africa. Tellingly, however, Shinn could not pin down an exact number of schools across the African continent—due to the decentralized and autonomous nature of the various initiatives inspired by Mr. Gülen. Indeed, in a fascinating observation that I could echo from many of the locales that I have visited, Shinn reported that "Africans who are familiar with Mr. Gülen commented to me on numerous occasions that the name [Gülen] is unknown to all but small numbers of their colleagues. ... A South African professor commented that Hizmet tends not to blow its own horn." This tendency reflects Mr. Gülen's own modesty. It may also explain how Mr. Gülen has been so easily caricatured: the work took precedent over the person. This was the case even (and perhaps especially) among those closest to Mr. Gülen. Nevertheless, by 2000, Shinn estimated that there were over 30 Gülen-inspired schools in Africa, and by 2010 he estimated that the number had jumped to 95, in thirty-five different countries. Many of the schools were non-profits—and they employed dozens of local teachers and administrators, among other staff.
People of Hizmet also followed Mr. Gülen's recommendation that the Prophet's hoşgörü mandated an end to racism by seeking better relations with Turkey's Kurdish population. Historically, of course, the Companions of the Prophet spread Islam to diverse cultures and people. The Ottoman Empire had been multi-cultural and multi-lingual. But when Ataturk established the Republic of Turkey, he did so on a foundation of "Turkishness"— often ruthlessly. Ataturk's vision of a mono-ethnic Republic was never fully realized, and imposing uniformity became particularly tempting in times of crisis, such as after the 1980 coup.
At that time, many Kurdish citizens of the Republic were rounded up and imprisoned, and a series of laws made Kurds second-class citizens, at best. Even speaking the Kurdish language was outlawed. There were reasons for the antipathy. The Kurdistan Workers Party, better known as the PKK, was founded in 1978. Their skirmishes with the Turkish Army had escalated by the 1990s into a civil war that would cost tens of thousands of lives. In an interview in 1993, Mr. Gülen carefully identified what he called "the problem of the Southeast." Government policies that responded "to violence with violence" were "highly objectionable," Mr. Gülen argued. To some even the word "Kurdish" caused something like "an allergic reaction," Mr. Gülen lamented.
Tepid as such statements of support for Kurds might seem, in making them Mr. Gülen was walking a very fine line. He had to avoid alienating (more than he already had) the military and hardline secularists. For many in those groups, Kurds were, simply, aliens who needed to assimilate into the Republican program. Put more positively, what Gülen hoped to do was to bridge and to disarm both Turkish and Kurdish nationalists, by appealing to a modern version of Islam with roots in the ancient Prophet's hoşgörü. And by the early 2000s, in part through Mr. Gülen's advocacy, Turkey's Parliament passed constitutional changes that lessened some of the strictures on Kurds. This "Kurdish opening" included, for example, ending the ban on using the Kurdish language. In fact, according to sociologists Mustafa Gürbüz and Harun Akyol, people inspired by Mr. Gülen had been building some durable bridges between Turks and Kurds since at least the mid-1990s.[51] Fezalar Educational Institutions (FEI) started work among Kurds in Northern Iraq in 1993 (the Kurdish community spills across the border between Turkey, Syria, Iraq and Iran, forming what some nationalists call "Kurdistan)." This Foundation built schools both for girls and boys in Erbil (1996), Süleymaniye (1997), and other cities.[52]
And the schools intended to promote peacebuilding. In one of the most conflicted regions of the globe, as Harun Akyol put it:
Gülen inspired Turkish schools are spreading the concept of tolerance, dialogue, democracy, and pluralism in Kurdish community[sic]. They are promoting non- violent conflict resolutions by showing how to approach to social problems through collective cooperation. Expansion of FEI educational activities open-up a political and social space for an alternative approach to the prevention of ethnic conflict. More importantly, they present an alternative way of thinking about ethnic conflict resolutions based on an increasing level of social, cultural, and trade contacts between conflicting parties. ... Turkish schools inspired by Fethullah Gülen ... have prepared and set up the preconditions for understanding each others' needs and that in doing so they are able to build confidence between antagonistic parties.[53]
This peace-building from below, starting with individuals, was of course characteristic of Gülen's theology.
Consequently, Mr. Gülen supported the cease-fire of 2013 and a broader "Kurdish opening" that briefly appeared to promise a diplomatic resolution to this conflict. In a 2013 interview in Rudaw—the leading Kurdish-language newspaper, Mr. Gülen reached out to Kurds through the example of the Prophet's hoşgörü. Pointing out that Said Nursi was Kurdish, Mr. Gülen followed Nursi's logic to explain that:
We have the same faith, we believe in the same God. Our food comes from the same ultimate Sustainer; we live on the same soil and under the same Sun. We breathe the same air. We have the same religion, the same destiny, and the same history as Turks and Kurds, we are everywhere in Turkey, we have spread all
over the country together. In a rapidly globalizing world of revolutionary advancements in transportation and communication, and in a world that is evolving into a great village, European countries that fought endless wars in the past have gotten together and even seek political unity. That is how the world is, and we know that we were born as Turks and Kurds regardless of our personal wishes. Given the fact that it is not in our hands to become a Turk or a Kurd, isn't it absurd to discriminate against people based on their Turkish or Kurdish identity or the language they speak? Isn't it to the detriment of all of us?[54]
From the Kurdish side, a critical question was whether Hizmet schools in "Kurdistan" were agencies for Turkish "ideological propaganda." Mr. Gülen replied by saying that he had been accused of being a propagandist within Turkey for decades—as had many humanitarian peacebuilders before him. But, he went on:
The Hizmet movement aims at moral improvement, building and maintaining peace, and providing world-class education to catch up with the developed world while respecting local customs. These goals are the same in Iraq and Kurdistan. The concept "ideological propaganda" is foreign to us; we do not know it. It is not very easy to juxtapose ideological propaganda with what we are doing in terms of conflict resolution, dialogue, consensus building, preparing the ground for scientific and technological innovations and promoting peace and security. Hizmet schools have established close relationships with local authorities; their curriculums have been approved and they have carried out their activities under the inspection of both parents and the authorities and in a transparent fashion. Moreover, every state follows what goes on at these schools in legitimate ways. They would not tolerate anything that brought harm to their peoples. Therefore, baselessly accusing these institutions, which have been established with the efforts and sacrifices of thousands of people, of conspiratorial approaches would be unfair and illegitimate.[55]
The only "conspiracy" that Mr. Gülen was promoting was to educate children.[56]
Explicitly, Mr. Gülen advocated non-violence, not terrorism, with education as the ultimate alternative to violence. He wrote:
It is impossible not to support efforts that aim to stop the tears and bloodshed of the region. It is crucial to be constructive and leave the pain of the past behind. It is also crucial to refrain from being part of any type of conflict, fight, or provocation that is based on ethnic or sectarian grounds. People should be careful not to fuel hatred and provoke separatist ideologies. ... Any chance for solidarity, philanthropy and togetherness on a cultural and economic basis must be put into practice. Specifically, educational institutions and civil society play an important
role in the application of a unifying culture. Education has a specific role in generating social values that prevent material conflicts. Contrary to our experience in the modern day, the peoples of the region have a long and deeply rooted history and tradition of peaceful coexistence. The Kurds, Turks, Arabs, Christians, Muslims, and Jews used to live together in peace. We need educational models and a culture of civil society that will rediscover and put into practice the values that facilitated this togetherness. Peaceful coexistence will be more feasible if youth can find a satisfying educational system in which they would not appeal to violence, war, and terror; and thus, education will be a strong alternative to violence.[57]
Peaceful coexistence would not be easy to achieve. By 2017, after pressure from the Turkish government, the ownership of FEI schools changed hands and they were purchased by Kurdish private investors.[58] What people inspired by Mr. Gülen had started, others would profit from. That pattern would hold for many of the institutions, schools, or ventures that Mr. Gülen had inspired in the 1990s. Those agencies and businesses had been built on a foundation of the trustworthiness of the Prophet (and of Mr. Gülen), and they had engaged Muslims on behalf of interreligious dialogue, women's rights, and against racism. Mr. Gülen had moved Turkey forward, by hearkening to the hoşgörü in its past. Over the same years, he had also moved Turks beyond Turkey—and people had taken Hizmet to new places, including Europe, Central Asia, Australia, the U.S., and beyond; generally to places Mr. Gülen himself had never, and never would, visit.
Erdoğan and Gülen in the 1990s, not "allies" but a shared commitment to democratization
By the 1990s, Mr. Gülen was well-known throughout Turkey. He had a cordial relationship with many politicians and civic leaders, including especially Turgut Özal, and he had two meetings with Prime Minister Tansu Çiller—the first (and only) female Prime Minister of Turkey, on November 30, 1994, and June 9, 1995.[59] One of the topics they likely discussed was the founding of Bank Asya. Given the range of initiatives that people inspired by Mr. Gülen were engaged in, it made sense that there be a collective financial institution both to gather and to invest the considerable resources that were accruing. The schools alone numbered over 100 by 1996 just in Turkey—and many of those campuses were built, as were the dormitories and tutoring centers, by construction companies led by people friendly to Hizmet. There were private Islamic banks already in Turkey. But there was none that combined Islamic principles with the best practices of modern finance. That was to be the mission of Bank Asya—which was opened in a gala celebration on October 24, 1996. Mr. Gülen attended; Çiller spoke: the two even sat side-by-side. A picture of the ribbon-cutting shows Çiller holding the scissors, with Gülen smiling from a little behind her, over her right shoulder. Holding the ribbon and directly to Çiller's left in the picture is Recep Tayyip Erdoğan—at the time mayor of Istanbul.[60]
Erdoğan, like Gülen, claimed legitimacy from Islam. In fact, in December 1997 he would follow Mr. Gülen in being charged for the crime of being a Muslim. More specifically, Erdoğan was charged with "inciting hatred," after he recited a portion of a poem that threatened to militarize and to mobilize Muslims. At a rally in the city of Siirt, Erdoğan had quoted these lines from poet Ziya Gökalp: "The mosques are our barracks/the domes our helmets/the minarets our bayonets/and the believers our soldiers."
Erdoğan had used the lines before. He claimed that "they stirred up crowds" (which were constituted, of course, by and large by Muslims).[61] But what is often called a "postmodern coup" had happened in Turkey on February 28, 1997. A meeting of the National Security Council on that date led to a memorandum that unseated elected Prime Minister Necmettin Erbakan—the leader of the Islamist Welfare Party. Erdoğan was also a member of the Welfare Party.
What followed, in policies collectively called "the February 28 Process" in Turkey, were steps to limit and roll-back what secularists and some military leaders saw as an increasingly influential role of Islam in public life. To the secularists, Atatürk's sharp line between religion and politics had been getting blurry. The new policies were broad. The most visible was a ban on headscarves in schools and universities. Less obvious, but more significant, were steps that insured government officials, notably generals or ex-generals, received the financial windfalls through patronage that flowed from the increasing number of formerly-state-owned enterprises that were now going public. Erdoğan, whose wife wore a headscarf, was caught up in this "coup." He eventually served four months in jail, in 1999, and was banned from politics. When he would return to public life, following an amnesty, he pledged allegiance to democracy.
Now, these political developments post-1997 are crucial to understanding the history of Hizmet down to the present, and to understanding why Mr. Gülen left Turkey in 1999. It has often been claimed, repeatedly and inaccurately, that Mr. Gülen and Erdoğan were once "allies."[62] Of course, the two knew each other. They occasionally appeared together at the same events. Erdoğan received an award and spoke, in fact, at a 1996 Journalist and Writers Foundation event that Mr. Gülen also attended (along with a thousand others).[63] But Mr. Gülen never sought or claimed affiliation with a political party. He also consistently stressed not political, but civic, aims. There were political implications, to be sure, to anything Mr. Gülen said or did. His life had been politicized for him. But no one has ever shown that Mr. Gülen's aims involved any active support for a politician or political party. And no one has ever discovered a Hizmet strategic plan to make Mr. Gülen caliph or sultan.
Mr. Gülen consistently throughout his life had advocated for three things: for education that linked science and religion; for poverty-alleviation that harnessed capitalism to social justice; and for interreligious dialogue on behalf of conflict-resolution and peace. His advocacy for these three initiatives grew stronger and clearer over the course of his life. And when he advocated for these practices, people listened and made them actual. The best way to understand Mr. Gülen's political role, then, is as an advocate. He drew out implications for civil society from his study of Islam, and then he spoke in favor of them. He empowered and trusted people who listened to him to put those implications into practice in schools, businesses, and think-tanks. Erdoğan, on the other hand, was equally consistent in very different patterns: in exploiting popular Islam for increasingly grandiose and authoritarian political ambitions and in manipulating and controlling people to enrich himself and his cronies.
It is thus telling that Mr. Gülen remembered several meetings that Erdoğan asked to have with him during the late 1990s. They happened at Mr. Gülen's modest apartment in Istanbul sometime between 1997 and 1999. The Welfare Party had been abolished, and Erdoğan was planning what would become the political party that would vault him back into power, the Justice and Development Party, whose acronym in Turkish is the AKP.
Erdoğan was looking for support. What he did not say openly was that he also expected obedience. As Mr. Gülen recalled the meetings, from the vantage of 2016, it was clear to him that Erdoğan was no ally of Hizmet. Mr. Gülen did not promise Erdoğan any support in these meetings, but rather recalled that he "expressed my own considerations at the time." Mr. Gülen's suspicions were warranted. On the way out of one of these meetings, while still unwittingly in earshot of some of Mr. Gülen's friends, Erdoğan admitted that he needed to defeat and vanquish Hizmet first. He would eventually spend plenty in that ruthless effort.[64] Speaking in retrospect about his relationship with Erdoğan, Mr. Gülen said:
There has never been an alliance, a sincere alliance, in the sense of a political alliance between us. During the formation efforts of their party, Mr. Erdoğan visited me and I spoke with him at that time once. And I also met him when he was Istanbul's mayor when we organized a charity soccer game for the benefit of Bosnian war victims. So I met him only two or three times throughout this period. But despite the absence of an actual alliance, people outside always saw this as an alliance. The true nature of this relationship is as such that they have promised to uphold the rule of law, justice. They promised to respect the diversity of opinions. They promised to respect religious freedom. They promised to respect different opinions and worldviews. And our friends along with the majority of Turkish people supported them based on these promises, such as Mr. Suleyman Demirel who was prime minister and then president of Turkey, Mr. Turgut Özal who was also Prime Minister and the President of Turkey, and Mr. Bülent Ecevit who was the Prime Minister. They all received support for similar promises for democracy, and the rule of law, and freedom. So Turkish people, based on the promises of these political leaders, supported them at different times. We have never joined a party. We have not become political. We have simply preserved our line of thought, our core values, which are universal human values: peace in the world, unity and harmony among human beings, and to fight against poverty. These are our core values and we have not strayed from them. If we wanted we could have taken a place in the party. We could have demanded parliamentary seats. We could have demanded seats in the Cabinet or a bureaucratic position of the government. But we have not done any of this. They have designed the Parliament, they have designed the Cabinet, they have designed bureaucratic institutions as they wished. And all of the world is a witness to this. So if you're going to talk about the separation or the split, this is because they strayed from their promises. We have not changed our position, our core values, but they made a U-turn. That's why the split occurred.[65]
From Chapter Five: Hizmet Global, America—1999-present
Why Mr. Gülen went to America
A small group of Turkish citizens had relocated to Saylorsburg, Pennsylvania over the 1990s. They lived near the site of a camp that the group had purchased to use for summer youth activities. Gradually, over the years, the camp became a year-round retreat center. This is where Mr. Gülen would move in 1999. He left Istanbul under a cloud; the "coup by memorandum" had resulted in a military government that was making accusations against him, again. He could not, for reasons of health, endure another season on the run. So, he left for America for treatment and for safety.
Within a month of Mr. Gülen's departure from Istanbul, on April 21, 1999, Prosecutor Nuh Mete Yüksel filed the first lawsuit that named Mr. Gülen as a "national security" threat. Listed along with Mr. Gülen were more than a dozen of his students and admirers— scholars, journalists, and activists.[66] Reports followed reports, documenting how Mr. Gülen had gathered the "largest congregation" of Muslims in Turkey, and had engaged in "secret" operations to build schools, media, finance and other businesses. He was also accused of encouraging his people to take positions within the government—notably in police and judicial appointments. Yeni Şafak—a pro-government newspaper, documented the ongoing process in a 2016 article that is, contrary to much of the "journalism" in the rest of the article, accurate:
In October 2000, Muzaffer Erkan, Head of the Intelligence Department of the General Directorate of Security, sent a note to the Ankara 11th Criminal Court titled the "National General Activities of Fetullah Gülen Group". The memorandum highlighted the financial footing of the Gülenists' general organization in Turkey. The study, which included extensive information on companies, foundations, schools and dormitories, which were close to the Gülenists, was sent to the ... Chief Public Prosecutor's Office. In particular, information ... about company and school administrators were included in the note that emphasized the educational structure of Gülenists.[67]
This kind of documentation of the activities of people of Hizmet would, naturally, prove extremely valuable to future governments. But it took a while for any actual charges against Mr. Gülen to be filed. The courts were not eager to proceed with claims they recognized as baseless. The case dragged on for years. Finally, on June 24, 2008, Mr. Gülen was acquitted of all charges.
The work of istişare: Mutual consultation as the heart of hizmet
Mr. Gülen rarely left the retreat center after 1999. He lived in a small two-room apartment, with a single bed. He had a desk, chair, and books. He also had jars of soil from the various locales in Turkey where he had served.
His days were spent in prayer, in teaching, in reading and writing. Occasionally, as his health permitted, he would meet with visitors. These meetings could be very informal "meet and greet" sessions. They could be more formal interviews (as I conducted with Mr. Gülen on February 30, 2018, and March 27, 2018). And they could be sessions of what was a characteristic organizing principle among people inspired by Mr. Gülen— Istişare—or mutual consultation. One day abis or ablas would come to seek his opinion about opening a school in the Far East; another day Turkish businessmen would ask questions for a new venture in Africa; and on a third day his health would not permit him to meet with anyone.
As Mr. Gülen explained the principle of istişare:
For the [Muslims] of today, consultation [he used here the term Shura] is a vital attribute and an essential rule, just as it was for the first [Muslims]. According to the Qur'an, it is the clearest sign of a believing community and the most important characteristic of a congregation who have given their hearts to Islam. The importance of consultation is mentioned in the Qur'an to the same degree as salat (prescribed prayers).[68]
Given this importance, the most intelligent person is the one who most appreciates and respects mutual consultation and deliberation (mashwarat), and who benefits most from the ideas of others. Those who are content with their own ideas in their plans and deeds, or who even insist or force others to accept their ideas, not only miss a very important dynamic, but also face disagreement, hostility, and hatred from the people with whom they are associated.[69]
Istişare was the guiding principle operative in all of the various Hizmet enterprises. They were social businesses, in Muhammad Yunus' sense: they organized capital (and raised capital) to address social problems, such as poverty and ignorance. And they operated socially—that is, through mutual consultation.
The authority structure in Hizmet: an organic and voluntary hierarchy, varying by locale
Mr. Gülen is often described as the "leader" of a "movement," even in academic circles. In fact, the authority structure among people inspired by Mr. Gülen is less like a corporation or other hierarchical entity than a classical Sufi circle of people inspired (and loosely influenced) by a sheikh. The key element in a classical sheikh's authority is not hierarchy, but trust and spiritual integrity. That is, it is expertise in doctrine and teaching, and integrity in moral practice that leads people to trust the authority of a teacher in the Sufi strains of Islam around the world. Often, these claims of authority have been perceived as threats to more hierarchical and authoritarian structures, as historian Simon Digby has noted in a close study of conflict between sheikhs and Sultan in Muslim India.
A similar dynamic may be evident in contemporary Turkey. An authoritarian leader with clear hierarchical structures (governmental and military) at his disposal, and with Sultanate aspirations, has set out to uproot what he sees as a rival authority structure with a very different dynamic. The Hizmet community operates organically and on a voluntary basis, with more or less structure in various locales. Any attempt to depict Mr. Gülen as a quasi-CEO figure is to misunderstand (or to misrepresent) the crucial dynamic that has inspired so many. It is his spiritual integrity and moral authority that has led people to trust him. Whatever authority operates is mutually generated through istişare. Participation in Hizmet is, again, utterly voluntary. Mr. Erdoğan has emphatically and repeatedly resorted to "hard power," such as police cannons, tear gas, tanks, and jets. In contrast, there is not a single shred of evidence that Mr. Gülen ever took up arms. He fostered among the people inspired by him the "soft power" of dialogue and educational endeavor.
And Mr. Gülen's support for democracy follows directly from this ground-up authority structure. He has articulated six key principles for civil society:
Power lies in truth, a repudiation of the common idea that truth relies upon power.
Justice and the rule of law are
Freedom of belief and rights to life, personal property, reproduction, and health (both mental and physical) cannot be
The privacy and immunity of individual life must be
No one can be convicted of a crime without evidence, or accused and punished for someone else's
An advisory [consultative] system of administration is

[70]
"Being with the oppressed is the same as being with God"—Kimse Yok Mu ("Is Anybody There?")
Many of the initiatives begun during Mr. Gülen's years in Pennsylvania were social enterprises intended to relieve suffering in various forms around the globe. For instance, one of Mr. Gülen's maxims has it that "being with the oppressed is the same as being with God."[71]
People inspired by this maxim founded an agency to respond to global disasters, called Kimse Yok Mu ("Is Anybody There?") (henceforth "KYM"). At one point, before being shut down by the government, it had about four-hundred employees. The agency had offices all over the world, but KYM concentrated its efforts in places of conflict and impoverishment. KYM had its beginnings in 1999 after a devastating earthquake hit the Marmara region of Turkey. The earthquake caused extensive damage to the city of İzmit—about 65 miles east of Istanbul. Over 17,000 died, and hundreds of thousands were displaced. Extensive public service programming on Samanyolu TV—the Hizmet-inspired network, began almost immediately, under the name of Kimse Yok Mu. The name, "Is Anybody There?" was of course what someone would shout while searching in rubble for survivors of an earthquake, or what someone buried in rubble might cry out while hoping someone would come to search. In any event, the television programming raised funds for relief efforts. It became a regular (and very popular) show that lasted for years. It focused attention on disasters and the need for assistance wherever they happened to occur. So, while the program started in Turkey, it soon broadcast stories about Turkish people from many countries taking services wherever they were needed after a disaster or conflict, such as Myanmar, Argentina, Indonesia, Pakistan, and Uganda. In 2002, Kimse Yok Mu Solidarity and Aid Association had been established as a licensed nongovernmental agency in Turkey. In 2016, that license was revoked by the government.[72]
Naturally, while it existed, KYM concentrated on poverty alleviation, and on being present for the oppressed. It often overlapped with other Hizmet-related agencies. For instance, Kimse Yok Mu administered a Sister Family project that linked middle-class or wealthy families with poorer families. The wealthier families supported especially educational opportunities for their less wealthy neighbors—including scholarships to Hizmet-related schools. Another Kimse Yok Mu project was Ramadan Tents. These tents were set up in poorer neighborhoods of major cities in Turkey, the Philippines, Indonesia, Pakistan, Lebanon, Ethiopia, and the U.S., among others. These tents provided free iftar meals to all comers. The tents were also often connected to the local dialogue agencies or foundations. They promoted dialogue with food, and they built trust without words.[73] KYM also sponsored in-kind aid to many regions around the world. These donations included food, but also clothing, stoves, fuel, and, in some areas where it operated, free medical check-ups and procedures, thereby connecting people to local Hizmet-related health-care initiatives.
Money for these projects was gathered through creative kinds of Himmet or fundraising: online donations; checks or cash deposited at local offices (there were 80 in Turkey by 2007); direct deposits to bank accounts set up for aid projects; text-message donations; and cash deposited in kiosks or boxes on busy city streets. Throughout the 2000s, the number of annual donors was consistently in the hundreds of thousands. Eventually the agency operated out of a headquarters in Istanbul, with loose connections to the various Hizmet-inspired agencies around the globe. It was among the most centralized and coordinated of the various Gülen-inspired organizations. Mr. Gülen's direct involvement was, again, minimal, aside from providing the agency its DNA of compassion—although he would often be the first to donate from his royalties after a disaster, which then set an example that many followed. Most of those who received aide in countries other than Turkey knew that the aide came from Turkey, but they probably knew nothing about Mr. Gülen.[74]
Not a Gülen "brand," but the practice of Islam—Hizmet is not an "Alternative to the State"
Such anonymity was, in fact, how Mr. Gülen wanted it. He was not interested in a Gülen "brand." He wanted people to practice Islam. Ismail Büyükçelebi—one of Mr. Gülen's earliest and closest students, explained:
He didn't see education only as math and physics, but education as comprehensive—trade, arts, service, and methods of service. He said he wouldn't stop with us, but would meet with others, including tradesmen. He taught them as he taught us. What he taught was based on positive action: organizations needed to help others; organizing the rich to help the poor. ... He asked for financial sacrifice. The companions of the Prophet were used as examples He constantly refers back to the religion, and he says this [project] isn't about my opinion; this is Islam.[75]
The goal was not to grow for the sake of growth; the goal was to practice one's faith with integrity. Mr. Büyükçelebi continued:
I know Hodjaefendi did not teach a class on these subjects [business or community organizing] directly, but I know of his recommendations to [many] groups. He wants to make sure that they aren't limited to a particular place [e.g., Turkey]. If you are going to build a business in America, then make sure you have an American partner. What is key is that [Hodjaefendi] didn't recommend
businessmen to go into speculation. He encouraged people to build something that produced, and to invest in your own businesses, not on credit. He's also
promoted opening-up business foundations—and made sure to push these foundations around the globe—America, Africa, Japan.[76]
For Mr. Gülen, work was not simply work. As he put it directly in one of his sermons on the Prophet: "Islam encourages people to work, and considers our lawful attempts to earn our living and support our family acts of worship."[77] Work done with integrity and good intention was worship in Islam.
Consequently, those whose work produced excess profits were encouraged to be generous in Himmet. Something of the capacity generated by this ethic is best studied in a microcosm—since there is no comprehensive Hizmet spreadsheet. Helen Rose Ebaugh and Doğan Koç conducted a series of interviews with Hizmet-inspired business leaders in Ankara in 2006.
We asked the group of a dozen businessmen in Ankara whether each of them contributes financially to Gülen-inspired projects, and if so, approximately how much they give each year. Each of the 12 men said that they contribute as they can to the movement projects. Amounts of contributions varied from 10% to 70% of their annual income, ranging from $20,000-$300,000 per year. One man, in particular, said he gives 40% of his income every year which is about $100,000; however, he said he would like to give 95% but is not able to do so and still maintain himself and his family. Another man said, "We wish we could be like the companions of the Prophet and give everything we have. But it is not easy."[78]
Easy or not, Mr. Gülen recognized that as resources concentrated in projects connected to his teachings, some would be suspicious. In a 2005 answer to the question "Is Hizmet an alternative to the State," Mr. Gülen answered, with a bit of biting satire:
I tell them [those who suspect Hizmet's motives] this: "Send some teachers to the four corners of the world, open up schools in every part of the world, open up cultural centers ... and when they play their own role in the future, [then you go] find the support. You do it." I would even take it a step further, despite the friends who do these services, despite those self-sacrificing people, those who are [behind] these institutions, the financiers, the businessmen; if I have the power, if my fame could reach, I would say to the whole nation: "If some are saying, 'Give those institutions to us, let us manage them,' then you give them, surrender them, let them manage everything, let us see whether [they are] managed or not." ... [Our approach is] giving without receiving anything in return.[79]
When the Turkish government started seizing Hizmet assets, this nightmare scenario came true. And, as Mr. Gülen anticipated, many of the initiatives simply ended. Their assets went into private pockets; their service stopped.
From 2010-July 15, 2016: The gradual scapegoating of Mr. Gülen and people of Hizmet
Between 2008 and 2016, the Turkish military, long the upholder of the secular establishment that Atatürk constructed, was by and large neutered as a force in Turkish political life. In many ways, given the history of repeated coups, this was a salutary and necessary development. Through a series of trials, the military was brought to heel at the rule of law. The trials were called Ergenekon and Sledgehammer, which were the names of plots through which military officers and affiliated civilians had conducted clandestine criminal operations against religious and ethnic minorities, and allegedly conspired to overthrow the AKP government.
A few hundred individuals were charged and brought to trial through Ergenekon and Sledgehammer prosecutions. Most were found guilty and imprisoned. Many of them were aging military officers. The trials riveted Turks, who saw clearly that the wheel of time was turning. To many Turks, the trials confirmed that there had existed within the democratically-elected government a conspiratorial "deep state" tied to the military that tried to pull the strings of political puppets. As the trials proceeded, observers both inside and outside Turkey began raising questions about the quality of evidence against the coup plotters, and the way the evidence had been secured (e.g., through wiretaps). When the guilty verdicts were reached, some speculated that Mr. Gülen—through judges and police beholden to him, had been the "mastermind" behind the entire operation. Clearly, Mr. Gülen had been harmed by the military in the past. Clearly, Mr. Gülen was not a fan of rigid secularism. Clearly, then, he must have taken these means to bring the military and fellow-travelers into submission.[80]
Except, there was no evidence of Mr. Gülen's involvement. His public statements directly denied the rumors of his involvement. And to have been involved in such political intrigue—supposedly conducted from rural America, would run counter to the main trajectory of his life and thought. As he put it after the fact, and after he had been rumored to be the "mastermind" behind many more supposed plots: "If [people] are looking for a mastermind of the Hizmet movement, I would say it is the solidarity and protection that God bestows on consultation. ... The Hizmet movement does not depend on any fading and mortal power or actor; it has made advances because God has been graceful."
This was not just pious rhetoric with a touch of satire; as the previous sections of this Report have showed, it was also accurate history; consultation was crucial to the movement's success. Even more, indisputably, Ergenekon and Sledgehammer were government projects with political aims. They were conducted through the judiciary, with the approval of the Executive and Legislative branches. Those in charge of government branches, one would think, rather than an imam residing in Pennsylvania, would be the ones most likely to be responsible for the actions of those under their jurisdiction. Any other hypothesis would need rather overwhelming evidence to secure it. According to Mr. Gülen, then, accusations that Hizmet was behind Ergenekon and Sledgehammer were ploys. Government officials scapegoated Hizmet to shield themselves from the public opprobrium that the trials might have roused (the military was still popular), and the officials scapegoated Mr. Gülen to maintain support for their governing among those in the military who were not accused as coup plotters and continued to serve. "Those [government officials] who boasted behind closed doors," Mr. Gülen wrote, "about 'making the military submit to civilians,' or 'putting an end to military tutelage,'" when they got out from behind closed doors, "told the military authorities 'We would iron out this problem, but the Hizmet Movement is preventing it.'"[81]
Mr. Gülen's own public statement about the trials was that if there were crimes committed by military officials, they should be held accountable. But he also left open the door for clemency, and compassion:
My friends have witnessed numerous times my eyes filled with tears, seeing how those retired military officers were detained. "If only the people who wear this honorable uniform had not been faced with this situation," I had said. But I am in no position to meddle with the laws in force or make any suggestion in this context. A coup is a serious accusation and judicial authorities are supposed to, in accordance with the rules that govern them, hold those responsible accountable. But perhaps a legal remedy could have been found while taking into consideration the ages or medical condition of those people advanced in age and used to being treated with respect all their lives. This is how I feel. It has always been so. It really runs counter to the facts to say that it is the Hizmet Movement that put them in that position.[82]
Succinctly, "they [the government] attempted to blame the movement for what they actually did."[83] Erdoğan admitted as much: "I am the prosecutor of these trials," he said. He even gave the actual prosecutors armed vehicles to protect them going to and from the courthouse.[84]
Nevertheless, a narrative had emerged within Turkey that worked both to mollify public opinion and to tame the military: blame Hizmet. "The emerging trend of our time is to attribute every inexplicable event to the Hizmet Movement and use it as a scapegoat," offered Gülen. That narrative would continue to deepen when Mr. Gülen questioned the legality of the Mavi Marmara flotilla on May 27, 2010, which Erdogan had authorized.[85] "It is impossible to deal with illegality by relying upon illegal means," Mr. Gülen said.[86]
And then in June 2013 came the Gezi Park Protests against authoritarianism that were brutally repressed by Erdoğan's government with tanks and tear gas. Erdoğan also ridiculed the protestors as "bandits" or "looters" (çapulcu) and refused to negotiate with them. Mr. Gülen's comments were not extensive—but he generally supported the protestors' rights to assemble, to speak their minds, and to advocate for causes.[87] Then-Prime Minister Erdoğan, naturally, did not take kindly to these suggestions. He began ranting against Gülen and Hizmet, claiming they had masterminded the protests, and eventually resorting to calling Gülen and those inspired by him "perverts," "hashashins," "traitors," "spies," "worse than Shiites," "leeches," and more.[88] In fact, the protests were anarchic and largely disorganized, representing a wide range of disaffected groups in Turkey. People inspired by Mr. Gülen were generally not even among the participants.
Still, in an interview after the protests had settled somewhat, Gülen contended that:
This is not a row between the AK Party and the Hizmet Movement. There has been a serious regression in fundamental rights and freedoms over the last few years. The offensive and subversive language used by politicians is making every social segment into "the other" and polarizing society. .... [Thus], I raised my objection to the description of protestors as çapulcu (bandits). Yet, we are not
and will not be a political party. Therefore, we are not the rival of any political party. We stand at an equal distance to everyone. Nevertheless, we make public our hopes and concerns about the future of our country. I think this is one of our most natural and democratic rights. I don't understand why some people do not like us enjoying this democratic right of ours. Telling people at the helm of the country "I have such and such ideas" should not be a crime. In advanced democracies, individuals and civil society organizations freely disseminate their views and criticisms about the country's political issues, and no one expresses any concern about this.
In December 2013, things suddenly turned much worse. A corruption inquiry—alleging rigged bids for state-driven contracts, kick-backs, bribery, and money-laundering, led to the arrest on December 17 of dozens of individuals, including the sons of three ministers in Erdoğan's government. Among those indicted was Suleyman Aslan, the director of state-owned Halkbank, and Iranian-Turkish businessman Reza Zarrab.[89] All of the other individuals who were arrested had close links to Erdoğan's AKP government. The arrests seemed to take the Prime Minister by surprise, but the next day he began dismissing public officials in a manner that would go on for years to come. He did not, however, fire the officials implicated in corruption—although some did resign. Instead, he labeled the investigation a "dirty operation," and fired the police, judges, and bureaucrats who had instigated and carried out the investigation and indictments. A few voices of protest arose. As reported in The Guardian, "the deputy chairman of the Nationalist Movement party (MHP), Oktay Vural, called the move a 'blow against the rule of law.' He added: 'Nobody will be able to cover up this shame. Let public officials do their job.'" Similarly, the leader of the pro-Kurdish Peace and Democracy party (BDP), Selahattin Demirtaş, called the sackings "'an intervention into the corruption investigation.'"[90] Not surprisingly, for accusing the Prime Minister of obstructing justice, in due course Demirtaş himself would be jailed by Erdoğan as a "terrorist."
A second wave of indictments—on December 25, 2013, implicated Erdoğan's own sons, Bilal and Burak. But the indictments were never acted on. The police and prosecutors involved were sacked. The investigation ground to a halt, only to be revived in U.S. Courts in 2016. There, Reza Zarrab arranged a plea deal in exchange for a lesser sentence on a guilty plea, and Hakan Atilla—an official at Halkbank, was also found guilty. Hundreds of hours of leaked phone transcripts implicated Erdoğan. In the wake of the trial, the Washington Examiner suggested that Erdoğan "may be the most corrupt leader Turkey has ever had."
Naturally, given how effectively the tactic had worked in the Ergenekon and Sledgehammer trials, Erdoğan blamed Hizmet and Mr. Gülen for having "masterminded" the corruption inquiries. As described by journalist Melik Kaylan: this strategy involved the deployment of "designated bogeys, waves of conspiracies, timed distractions, confused citizens, politicized state institutions, pyramidized economies run by oligarchs." Mr. Gülen replied with exasperation:
Some people and groups persistently continue to hurl unfounded accusations at the Hizmet Movement, although we have issued numerous denials, explanations and corrections. As I have noted previously, some prosecutors and judicial police serving under them performed the duties required of them by law, but they apparently did not know that it was a crime to hunt down criminals! ... [And then] the officials who conducted the December 17 probe and thousands of officials who had nothing to do with the probe were sent to exile and reassigned. They were victimized and the rights of their families were violated. And then, as if nothing had happened, some people started to accuse the Hizmet Movement. I
have said this before. I have no connection to those who organized these operations. I have repeatedly stated that I do not know any of them, but they [the government and its press] continue to claim that those prosecutors and police officers are linked to me. ... [And then] Turkey launched a crackdown on those who investigated the corruption instead of on those who engaged in corrupt practices.[91]
Mr. Gülen, again, tried to set the political machinations in a broader horizon of justice. It was not just this life that was at stake:
If there are acts of bribery, theft, clientelism, bid rigging, etc., which run contrary to the interests of the nation, and if these acts are covered up, God will hold us accountable for them. But it appears that some people nurtured certain expectations. If among those who conducted the graft investigations were some
people who might be connected to the Hizmet Movement, was I supposed to tell these people, "Turn a blind eye to the corruption charges?" It appears to me that some people were expecting me to do this. ... How can I say something that would ruin my afterlife?  How else can I act? I have been preaching for about
60 years. I have always said the same thing. Let this be my legacy. Let my brothers and sisters who have sympathy for me—though I do not deserve it— distance themselves miles away from such corrupt practices and let them not turn a blind eye to such practices. Let them do whatever they are supposed to under the law.[92]
Mr. Gülen was right that he had, in fact, preached for about 60 years—leaving a rather clear record of public statements in support of the rule of law. What he did not say about his legacy was that it was demonstrated not only by his words, but in the lives of those non-violent teachers, entrepreneurs, and community organizers around the globe who had been inspired by him.
And then came July 15, 2016. It was called a "failed coup." There certainly was mobilization of some (incompetent) kind among some small percentage of the military. And there was also corresponding loss of life, after the President urged citizens into the streets. And who drew the blame for both the "failed coup" and the lives lost? In fact, Mr. Gülen had faced a similar charge in 1997—when he was actually in Turkey, with connections to politicians, and with everyday contact with people on the ground. In that year, the so-called "Coup by Memorandum" removed the government of Necmettin Erbakan; the first "Islamist" Prime Minister in Turkey, and a mentor of Erdoğan.
Mr. Gülen was on record prior to the coup recommending the government to resign and hold new elections. Those who wanted to link him to the July 2016 event pointed to this prior political entanglement as evidence that he must have been "behind" the latest political intrigue. Mr. Gülen explained that he had in fact tried to warn people in government about a coming coup in 1997. "I explained to the then-Labor Minister Necati Çelik the coup atmosphere that was forming in the country at the time. Alaattin Kaya (the former owner of Zaman daily) and Melih Nural (a member of the Board of Trustees of Turgut Özal University), were with us during that meeting. 'They are planning to get rid of the government,' I said." No action was taken by the Erbakan government. Around the same time, Gülen also went with his concerns to former Prime Minister Tansu Çiller. She also did not take action. So, "having realized that I could not explain the danger to anyone, I was urged to say something to avert an incident that would lead to a possible coup I worked hard to avert any anti-democratic development." Nevertheless, the military took charge of the government, and "the Hizmet movement was one of the main targets of the junta. Any claim to the contrary would be unfair and misguided."[93] But the narrative was out that Mr. Gülen had "sponsored" the successful 1997 coup, and (therefore) had sponsored this failed coup in 2016, as well.
It all somewhat beggared belief. Gülen had been hurt by coups before. He had opposed violence his entire life. He lived in Pennsylvania. Can it really be plausible that he would have orchestrated a violent coup, now? As theologian Philip Clayton put it:
It would require a massive conspiracy theory to connect Gülen with the gun- carrying rebels. For example, one would have to say that all of Gülen's teachings
... were merely a hypocritical pretense. All his claims that violence is never justified in the name of religion were merely a way to mislead opponents while Gülen orchestrated violent political actions aimed at putting him and his followers in charge of the Turkish government. He only preached peace because he really wanted war. It doesn't make sense.[94]
What does make sense is that the Erdoğan regime saw in scapegoating Gülen a trope that worked politically, and exploited it.
As for Gülen himself, from his retreat center in Pennsylvania, he penned an op-ed column in the New York Times, published on July 26, 2016, where he wrote:
During the attempted military coup in Turkey this month, I condemned it [in Turkish] in the strongest terms. "Government should be won through a process of free and fair elections, not force," I said. "I pray to God for Turkey, for Turkish citizens, and for all those currently in Turkey that this situation is resolved peacefully and quickly."
Despite my unequivocal protest, similar to statements issued by all three of the major opposition parties, Turkey's increasingly authoritarian president, Recep Tayyip Erdoğan, immediately accused me of orchestrating the putsch. He demanded that the United States extradite me from my home in Pennsylvania, where I have lived in voluntary exile since 1999.
Not only does Mr. Erdoğan's suggestion run afoul of everything I believe in, it is also irresponsible and wrong.
My philosophy — inclusive and pluralist Islam, dedicated to service to human beings from every faith — is antithetical to armed rebellion. For more than 40 years, the participants in the movement that I am associated with — called Hizmet, the Turkish word for "service" — have advocated for, and demonstrated their commitment to, a form of government that derives its legitimacy from the will of the people and that respects the rights of all citizens regardless of their religious views, political affiliations or ethnic origins. Entrepreneurs and volunteers inspired by Hizmet's values have invested in modern education and community service in more than 150 countries.
At a time when Western democracies are searching for moderate Muslim voices, I and my friends in the Hizmet movement have taken a clear stance against extremist violence, from the Sept. 11 attacks by Al Qaeda to brutal executions by the Islamic State to the kidnappings by Boko Haram. ...
Throughout my life, I have publicly and privately denounced military interventions in domestic politics. In fact, I have been advocating for democracy for decades. Having suffered through four military coups in Turkey in four decades—and having been subjected by those military regimes to harassment and wrongful imprisonment—I would never want my fellow citizens to endure such an ordeal again. If somebody who appears to be a Hizmet supporter has been involved in an attempted coup, he betrays my ideals.[95]
Despite such statements, there were those in the U.S. press and around the world who "bought" and amplified the Erdoğan government's narrative.[96] As for Erdoğan himself, within hours he declared the coup "a gift from God."[97] A year later, at a massive rally to mark the anniversary of his "gift from God," Erdoğan made plain just how deep his devotion to this violence went: "We will rip off the heads of those traitors," he screamed from his lectern in Istanbul.[98] His purge of anyone even remotely connected to Mr. Gülen had begun years before. It would increase exponentially now.
Specific Accusations Against Mr. Gülen And Hizmet
Was Mr. Gülen the leader of an armed terrorist organization?
There has never been evidence that Mr. Gülen has engaged in or encouraged terrorism. He has not intended to generate fear or terror, and his nearly 60-year public record of preaching, teaching, and writing is overwhelming evidence against the charge of the Turkish government.
In fact, far from leading a "terrorist" organization, Mr. Gülen has, in contrast, consistently and clearly inspired people to participate as Muslims in charitable acts on behalf of education, interreligious dialogue, and social enterprise.
University of Chicago political scientist Robert A. Pape has conducted perhaps the most thorough study of terrorist acts; studying nearly every "martyrdom video" produced by suicide bombers. Pape has concluded that "it's the occupation, stupid."[99] That is, terrorism is almost always a reaction to military occupation or the perception of such occupation. Obviously, Mr. Gülen has had no such experience of suffering occupation. He shows no signs of reaction to an occupying force. In contrast, he has consistently spoken in defense of the rule of law and nonviolence.
University of California sociologist Mark Juergensmeyer has studied violent religious nationalism around the globe. He has noted that violent religious nationalists are marked especially by dualistic thinking. Mr. Gülen has consistently advocated and evidenced inclusivist thinking, and in favor of the principled pluralism of dialogue and civic engagement.
According to R. Scott Appleby, former Executive Director of the Kroc Institute for International Peace at Notre Dame, religious extremists share several patterns in discourse and practice. Mr. Gülen evidences none of them.
Us-Them Discourses/Enemy-Creation: Mr. Gülen's emphasis on dialogue is the opposite of dualism, and he has consistently claimed to have no enemies of his own making. He has evinced a willingness to work with
Reactive to External Contingencies: Mr. Gülen has repeatedly advocated for müspet hareket, or consistent positive action (e.g., the nonviolent practices at the heart of Islam)
Selective Tradition: Mr. Gülen embraces the breadth and depth of the Islamic tradition, and is extremely well-versed in it, as a scholar of the Qur'an, Hadith, and the different schools of
Young, Male Followers: Mr. Gülen has inspired both men and women to gain education and to work in educating others, and he disavows the notion of "followers." "Do it Yourself!" is one of his principles from his earliest
Exclusivist: Terrorists tend to define ideological boundaries with clear markers, so as to exclude "others" who are perceived as "unclean." Mr. Gülen's inclusive vision of dialogue is well
Holy War/Jihad: Mr. Gülen has directly taught against the version of this teaching that terrorists employed, and he emphasized instead the "greater jihad" of reducing the sway of ego in one's life. He has never invoked (he has no authority to do so) the lesser jihad of defensive struggle against
Ecstatic Asceticism—Glory through Sacrifice: Mr. Gülen has said that "difficulties increase in accordance with the greatness of the consequent reward."

[100]

But this maxim has never been invoked to justify acts of violence. On the contrary, it has been intended, and has served among people of Hizmet, in my experience, to motivate self-sacrificing acts of service in the educational and dialogue activities at the heart of Mr. Gülen's
I am not aware that any reputable scholar would have supported the Turkish government's accusations that Mr. Gülen is a terrorist.
Mr. Gülen's consistent and repeated critiques of terrorism and violence
After the terrorist attacks of September 11, 2001—and after every similar attack since, Gülen was among the first Muslim leaders to condemn them. Writing in Zaman on September 12, Mr. Gülen said:
I would like to make it very clear that any terrorist activity, no matter by whom it is carried out or for what purpose, is the greatest blow to peace, democracy, and humanity. For this reason, no one—and certainly no Muslim—can approve of any terrorist activity. Terror has no place in a quest to achieve independence or salvation. It takes the lives of innocent people. ...
Please let me reassure you that Islam does not approve of terrorism in any form. Terrorism cannot be used to achieve any Islamic goal. No terrorist can be a Muslim, and no true Muslim can be a terrorist. Islam demands peace, and the Qur'an demands that every true Muslim be a symbol of peace and work to support the maintenance of basic human rights. ...
Islam respects all individual rights and states clearly that none of these can be violated, even if doing so would be in the interest of the community. The Qur'an declares that one who takes a life unjustly has, in effect, taken all the lives of humanity, and that one who saves a life has, in effect, saved all the lives of humanity. Moreover, Prophet Muhammad stated that a Muslim is a person who does no harm with either the hands or with the tongue.
I strongly condemn this latest terrorist attack on the United States. ... I feel the pain of the American people from the bottom of my heart, and I assure them that I pray to God Almighty for the victims and I pray that He give their loved-ones and all other Americans the necessary patience to endure their pain.[101]
In the Washington Post, Mr Gülen said:
We condemn in the strongest of terms the latest terrorist attack on the United States of America, and feel the pain of the American people at the bottom of our hearts.
Islam abhors such acts of terror. A religion that professes, "He who unjustly kills one man kills the whole of humanity," cannot condone senseless killing of thousands.
Our thoughts and prayers go out to the victims and their loved ones.
Was Mr. Gülen's aim to "infiltrate" the Turkish government via a "parallel state?"
According to many, including some who should have known better, "Gülenists" had generated a "deep State."[102] They had "infiltrated" the police, judiciary, or military, where they conspired to take over Turkish politics. What this slippery verb omitted to mention was that people inspired by Gülen had also "infiltrated" furniture manufacturing, textiles, electronics, banking—and, of course, education, publishing, television, healthcare, and relief work. Repeatedly, ONE spurious quote has been cited to support the notion of a "parallel state" allegedly founded by Mr. Gülen.[103] The provenance of this quote is unclear, and it contradicts countless public statements of Gülen about his aims in education, dialogue, and social enterprise. Yet, even in this quote, in which Mr. Gülen is apparently speaking to a group of public officials (apparently some public servants from the judiciary), he is calling for reform, not revolution, and asking them to be patient until all the constitutional institutions in Turkey are on their side. Mr. Gülen is basically recommending Muslim public officials to be cautious not to be fired from their jobs by the staunchly secularist establishment, simply because of their religiosity.
The language of "infiltration," repeated by journalists over and over, like the language of a "compound" to describe Mr. Gülen's retreat center, reflects intellectual laziness and communicates bias. "Infiltration" implies some clandestine or nefarious intent—actual evidence of which has never been produced. People of Hizmet generally went where the jobs were and where their skills were valued—as do most people in the world. They did participate in politically connected roles—as police, judges, soldiers, even members of Parliament. But they did so as individuals who had been encouraged by Mr. Gülen to use their own reasoning and expert skills.
At one point, the conspiracy-theorizing veered onto truly sacred ground among the Turkish public. Rumors circulated that people close to Mr. Gülen were plotting to take over Fenerbahçe—one of Turkey's most popular football (soccer) teams. There was nothing to the rumors—and Gülen somewhat cheekily offered that while he liked Fenerbahçe, he also had enjoyed it when team Galatasaray saw success in the European Championships, and he also hoped that Beşiktaş, Trabzonspor and "the country's other teams are very successful."
Is the Hizmet movement a "cult?"
The language of "cult" is not used by historians of religions, because it is an inherently pejorative term. Classically, a "cult" is simply a "worshipping" group, from the Latin "cultus"— worship. More recently, however, the term has been used to describe groups of people worshipping in a way that the user of the term "cult" dislikes. It is a term with almost no boundaries in the historical record. When deployed it is designed to denigrate, not to understand. As Guy Harrison puts it, ""Cult is just another sleazy slur word. It provides a counterfeit confidence that enables people to feel good about their own questionable beliefs and group memberships."[104]
In contrast, historians who are objective talk about "new religious movements." To a degree, the community of people inspired by Mr. Gülen could be described as constituting a "new religious movement," but I believe the most accurate way to describe them is as a revival, renewal, or reform effort within Islam. That is, Mr. Gülen and people of Hizmet have recognized that Muslims have fallen behind the Western world in many aspects, notably in building democratic societies, but also in education, in poverty-alleviation, and in rights for women and other minority groups. Consequently, out of their devotion to Islam (hardly a new religious movement, and no more of a cult than Christianity), people inspired by Mr. Gülen have sought to reform, revive, or renew the authentic practice of Islam and to engage Muslims in service to civil society.
To call anyone a "cult" leader says more about the ignorance and pejorative intentions of the user than it does of the object described. A willingness to use inherently biased language suggests bad faith and an intention to defame, slander, libel.
No reputable historian of religion would describe Mr. Gülen or the people inspired by him to hizmet as members of a "cult."
Was the entire public life of Fethullah Gülen a facade? Could the hundreds of thousands of people who were close to him have carried out a massive conspiracy to present Gülen falsely? Such a scenario is neither plausible nor supported by the evidence—which reveals Mr. Gülen to be a man of peace, and reveals people inspired by him to be faithful and dedicated Muslims committed to strengthening civil societies.
The more likely scenario to explain recent tragic developments in Turkey and around the globe is that President Erdoğan knew that Gülen was a principled Muslim who would not hit back. This commitment by Mr. Gülen to nonviolence made him a perfect religious scapegoat. His sacrifice could unify a fractious society by channeling the rivalry of all against all onto one. The damage done to Mr. Gülen's reputation through this campaign of slander, and the damage done to people inspired by Mr. Gülen, or to people even tangentially associated with him, or to people even accused of being associated with him, is vast.
---
[1] J. Pahl, "Fethullah Gülen, A Life of Hizmet: Why a Muslim scholar in Pennsylvania matters to the world," Blue Dome Press 2019.
[2] The Colloquium on Violence and Religion, at https://violenceandreligion.com/
[3] Jon Pahl, Fethullah Gülen: A Life of Hizmet. Why a Muslim Scholar in Pennsylvania Matters to the World
(NJ: Blue Dome Press, 2019), pp. xvi-xvii.
[4] Jon Pahl, Fethullah Gülen: A Life of Hizmet. Why a Muslim Scholar in Pennsylvania Matters to the World
(NJ: Blue Dome Press, 2019), pp. xvi-xvii.
[5] M. Fethullah Gülen, "Our Method Against Hostility," (accessed October 2 2019).
[6] M. Fethullah Gülen, Toward a Global Civilization of Love and Tolerance (NJ: Light, 2004), p. 199.
[7] Tim Arango, Sebnem Arsu and Ceylan Yeginsu, "Growing Corruption Inquiry Hits Close to Turkish Leader," The New York Times, dated December 12, 2013.
[8] Marc Champion, "Coup was a 'Gift from God' for Erdogan Planning a New Turkey," Bloomberg dated July
17 2016.
[9] Suzy Hansen, "Inside Turkey's Purge," The New York Times Magazine dated April 13, 2017.
[10] Carlotta Gall, The New York Times, "Erdogan's Purges Leave Turkish Justice System Reeling," dated June 21, 2019.
[11] The Wall Street Journal, "U.S. Not Persuaded to Extradite Imam Over Turkey Coup" dated 4 August 2016 (accessed on 19 October 2018).
[12] Kroc Institute for International Peace Studies, at https://kroc.nd.edu/research/
[13] M. Fethullah Gülen, "Any Political Aims?" in Robert A. Hunt and Yüksel A. Aslandogan, Muslim Citizens of the Globalized World: Contributions of the Gülen Movement (NJ: The Light, 2006), p. 60.
[14] "pbuh" is an abbreviation of "peace be upon him," an English translation of the phrase often used by followers of Islam after stating the prophet Muhammad's name.
[15] Rumi Forum, "The Wing of the Bird: Gülen on Sincerity," (accessed on October 21 2019).
[16] Mr. Yunus is well-known as a Nobel-Laureate in peace who has sought to create a "world without poverty." Mr. Gülen and people inspired by him share that aim, and they share his commitment to engaging the energy of capitalist entrepreneurship on behalf of solving social problems, guided by the ethics of Islam.
[17] M. Fethullah Gülen, "The Necessity of Interfaith Dialogue," The Fountain 3 (July-Sep, 2000) dated 1 July 2000, pp. 7-8. The essay was penned in 1999 for the World's Parliament of Religion.
[18] Report by BPA Worldwide on daily newspaper circulation for Zaman for the 6-month period ending December 2014 dated 23 June 2014; Report by BPA Worldwide on daily newspaper circulation for Zaman for the 6-month period ended June 2014 dated 25 November 2014.
[19] M. Fethullah Gülen, "Appeal to Mercy," Fethullah Gülen (official website), dated 2 July, 2004. The original article appeared (in Turkish) in 2000.
[20] M. Fethullah Gülen, The Statue of Our Souls: Revival in Islamic Thought and Activism. Tr. Muhammed Çetin (NJ: The Light, 2007), p. 44.
[21] Eyüp Can, Fethullah Gülen ile Ufuk Turu (Istanbul: AD, 1996), pp. 71-89, as cited by JP-0015, Enes Ergene, Tradition witnessing the modern age, pp. 122-23.
[22] M. Fethullah Gülen, "Holding One's Tongue," in Fethullah Gülen's Works: Pearls of Wisdom dated 30 May 2006.
[23] Nahal Toosi, "Verbatim: Fethullah Gülen, "I Don't Have Any Regrets," Politico, September 9, 2016.
[24] See Risale-i-Nur in English, at https://www.risaleenglish.com/
[25] Gülen, Toward a Global Civilization of Love and Tolerance, p. 199.
[26] See, with some caution, Ayşe Çavdar, "Gülen Sect: Reached for the State, Got Capital Instead," in Heinrich Böll Stiftung / Türkiye 8(2014): 1-12, Çavdar has little sympathy for or understanding of Gülen's theology, and her analysis reduces him to a political actor, beginning with his anti-Communist participation.
[27] This section follows Murat Alptekin, Teacher in a Foreign Land: M. Fethullah Gülen (NJ: Tughra Books, 2012), pp. 27-30.
[28] Jon Pahl, "Interview with Sevgi Akarçeşme," Istanbul, August 18, 2015.
[29] Cathy Gilsinan, "The Buddhists and the Neuroscientist: What Compassion Does to the Brain," in The Atlantic dated July 4, 2015.
[30] See Robert D. Putnam, "Social Capital Primer," (accessed on October 21, 2019).
[31] [Anonymous Interview,] in Margaret Rausch, "Progress through Piety: Sohbetler (Spiritual Gatherings) of the Women Participants in the Gülen Movement," in Islam in the Age of Global Challenges: Alternative Perspectives of the Gülen Movement. Georgetown University President's Office, Alwaleed bin Talal Center for Muslim Christian Understanding. Rumi Forum, dated November 14-15, 2008. Conference Proceedings (accessed on 30 October 2019).
[32] Jon Pahl, "Interview with Yusuf Pekmezci," Izmir, Turkey, July 29, 2015.
[33] David Clingingsmith, Asim Ijaz Khwaja, Michael Kremer, "Estimating the Impact of the Hajj: Religion and Tolerance in Islam's Global Gathering," Faculty Research Working Papers Series, Harvard Kennedy School/John F. Kennedy School of Government, dated April 2008, RWP08-022.
[34] M. Fethullah Gülen, "Ramadan and Softening Hearts," The Broken Jug, 8 July 2013.
[35] Greg Barton, Paul Weller, and İhsan Yılmaz, "Fethullah Gülen, the Movement and this Book: An Introductory Overview," in The Muslim World and Politics in Transition: Creative Contributions of the Gülen Movement (London/NY: Bloomsbury, 2013), p. 5 (accessed on 30 October 2019).
[36] See Cengiz Toraman, Bedriye Tuncsiper, Sinan Yılmaz, "Cash Awqaf in the Ottomans as Philanthropic Foundations and Their Accounting Practices."
[37] Gülen, Emerald Hills of the Heart: Key Concepts in the Practice of Sufism, Volume 2, pp. 71-2.
[38] Jon Pahl, "Interview with Alaattin Kırkan," dated July 28, 2015, Izmir.
[39] Gülen, Toward a Global Civilization of Love and Tolerance, p. 189.
[40] "Principles of the Just War," (accessed on October 21, 2019).
[41] Jon Pahl, "Interview with Emine Eroğlu," Hasbrouck Heights, NJ, dated February 7, 2017.
[42] See Mustafa Akyol, "How Politics has Poisoned Islam," The New York TImes, dated February 6, 2016.
[43] On this history, see Muhammed Çetin, The Gülen Movement: Civic Service without Borders (NJ: Blue Dome Press, 2010), pp. 35-40, and Irmak TV, Geçmisten Izler (Traces from the Past), "Interview with Sibgatullah Gülen," Episode 2, dated June 4, 2014, https://www.youtube.com/watch?v=7FmJQMTKlgs. Irmak TV is one of the media agencies begun by people inspired by Gülen, and shut down by the Turkish government with assets seized after the July 15, 2016 events.
[44] Joshua D. Hendrick, Gülen: The Ambiguous Politics of Market Islam (NY: New York University Press, 2013), pp. 137-8.
[45] Joshua D. Hendrick, Gülen: The Ambiguous Politics of Market Islam, p. 187.
[46] On this incident, see "The Late Mehmet Özyurt," dated September 17, 2007.
[47] Ibid.
[48] List of sermons performed by Mr. Gülen in 1990.
[49] Alarko Holding, https://www.alarko.com.tr/en/homepage.
[50] Aviv, Efrat E., "Fethullah Gülen's Jewish Dialogue," in Turkish Policy Quarterly 9(3), pp. 101-114.
[51] Mustafa Gurbuz, "Recognition of Kurdish Identity and the Hizmet Movement," (accessed on October 21 2019).
[52] Harun Akyol, "An Alternative Approach to Preventing Ethnic Conflict: The Role of the Gülen's [sic] Schools
in strengthening the delicate relations between Turkey and the Iraqi Kurds with particular reference to the 'Kirkuk Crisis,' in Conference Proceedings: Islam in the Age of Global Challenges: Alternative Perspectives of the Gülen Movement. Georgetown  University President's Office.   Alwaleed Bin Talal Center for Muslim Christian Understanding. Rumi Forum dated November 14-15, 2008, p. 51 (accessed on 30 October 2019).
[53] Ibid.
[54] Rebwar Kerim, "Kurdish Paper Rudaw's Interview with Fethullah Gülen," dated March 13, 2013.
[55] Ibid.
[56] See, for example, the story "GYV [Journalist and Writers Foundation] slams slanderous accusations seeking to link Hizmet to terrorist PKK," Hizmet News, April 12, 2016.
[57] Rebwar Kerim, "Kurdish Paper Rudaw's Interview with Fethullah Gülen," dated March 13, 2013.
[58] Sara al-Qaher, "Iraqi Kurdistan government seized, sold Gülen schools," dated October 5, 2016.
[59] See "The Media on Gülen's Meeting with Turkish Political Leaders," dated 15 September 2001.
[60] See from among many possibilities "Tansu Ciller den Fethullah Gülen Aciklamasi [Tansu Ciller and Fethullah Gülen Explained]," dated 25 July 2016.
[61] Uri Friedman, "The Thinnest-Skinned President in the World," The Atlantic, dated April, 2016.
[62] See, for example, Sertan Sanderson, "From Ally to Scapegoat, Fethullah Gülen the Man Behind the Myth," at DW, dated June 4, 2018.
[63] See "Tayyip Erdoğan, Fethullah Gülen, Muhsin Yazıcıoğlu ve Barış Manço'nun yıllar önceki görüntüleri: Gazeteciler ve Yazarlar Vakfı'nın 1996 yılındaki ödül töreninde Erdoğan'ın konuştuğu, Fethullah Gülen'in dinlediği video sosyal medyanın gündeminde" "Pictures from years ago of Tayyip Erdoğan, Fethullah Gülen, Muhsin Yazicioglu and Barış Manço: The video is of Erdoğan's speech at the award ceremony that Fethullah Gülen attended, sponsored by the Journalists and Writers Foundation in 1996," at https://www.youtube.com/watch?v=ZhUT0Uc0wpI]
[64] In a related interview, Huner Anwer asked Gülen about the "alliance" between Gülen and Erdoğan. "There has never been a sincere alliance between Gülen Movement and Erdoğan," [n.d.], at "Gülen Movement".
[65] "There has never been a sincere alliance between Gülen Movement and Erdoğan," [n.d.], at "Gülen Movement".
[66] See "July 15 Coup Attempt: FETO's Structure," (accessed on October 21 2019).
[67] Ibid.
[68] Gülen, The Statue of Our Souls: Revival in Islamic Thought and Activism. Tr. Muhammed Çetin (NJ: The Light, 2007), p. 43.
[69] Ibid., p. 44.
[70] M. Fethullah Gülen, Toward a Global Civilization of Love and Tolerance, p. 221.
[71] Ibid, p. 23.
[72] See Thomas Michel, SJ, "Fighting Poverty with Kimse Yok Mu," in Islam in the Age of Global Challenges: Alternative Perspectives of the Gülen Movement. Conference Proceedings, dated November 14-15, 2008. Georgetown University (Washington, DC: Rumi Forum, 2008), pp. 523-533 (accessed on 30 October 2019).
[73] Ibid. See also Dogan Koc, "Generating an Understanding of Financial Resources in the Gulen Movement: 'Kimse Yok Mu' Solidarity and Aid Association", in Islam in the Age of Global Challenges: Alternative Perspectives of the Gülen Movement. Conference Proceedings dated November 14-15, 2008. Georgetown University (Washington, DC: Rumi Forum, 2008), pp. 435-454.
[74] See Helen Rose Ebaugh, The Gülen Movement: A Sociological Analysis of a Civic Movement Rooted in Moderate Islam (NY: Springer, 2009), pp. 102-3.
[75] Jon Pahl, "Interview with Ismail Buyukcelebi," May 12, 2015, Wind Gap, Pennsylvania.
[76] Ibid.
[77] Gülen, Muhammad: The Messenger of God, An Analysis of the Prophet's Life p. 193.
[78] Helen Rose Ebaugh and Dogan Koc, "Funding Gülen-Inspired Good Works: Demonstrating and Generating Commitment to the Movement," in Muslim World in Transition: Contributions of the Gülen Movement. International Conference Proceedings. London, dated 25-27 October 2007. (London: Leeds Metropolitan University Press, 2007), p. 545.
[79] Dogu Ergil, Fethullah Gulen and the Gulen Movement in 100 Questions (NJ: Blue Dome Press. Kindle Edition, 2016), p. 301.
[80] See on the trials Dan Bilefsky and Sebnem Arsu, "Turkey Feels the Sway of Reclusive Cleric," The New York Times, dated April 24, 2012.
[81] Ekrem Dumanli, Time to Talk: An Exclusive Interview with Fethullah Gülen (Istanbul: Blue Dome Press, 2015), p. 42.
[82] Ibid, pp. 42-3.
[83] Ibid, p. 11
[84] "'Evet Ergenekon'un savcısıyım'['Yes, I am the prosecutor of Ergenekon', Gazetavatan.com, dated July 16, 2008.
[85] Joe Lauria, "Reclusive Turkish Imam Criticizes Gaza Flotilla," Wall Street Journal, dated June 4, 2010.
[86] Dumanli, Time to Talk, p. 29.
[87] Michael Birnbaum, "In Turkey Protests, Splits in Erdoğan's Base," The Washington Post, dated June 15, 2013.
[88] See for documentation of the sources for these terms as used by the Prime Minister, a comprehensive
overview prepared by the Turkey Task Force, Hate Speech and Beyond: Targeting the Gülen Movement in Turkey. Rethink Paper 16, June 2014. (Washington, DC: Rethink Institute). The Rethink Institute was a Hizmet-related think-tank.
[89] Constanze Letsch, "Turkish Minister's Sons Arrested in Bribery and Corruption Scandal," The Guardian, dated 17 December, 2013.
[90] Constanze Letsch, "Turkish PM: corruption probe part of 'dirty operation' against administration," The Guardian, dated December 18, 2013.
[91] Dumanli, Time to Talk, pp. 17-18.
[92] Dumanli, Time to Talk, pp. 21-22.
[93] Ibid, pp. 8-10.
[94] What Went Wrong With Turkey? The Fountain Special Issue (NJ: Blue Dome Press, 2017), p. 20.
[95] M. Fethullah Gülen, "I Condemn All Threats to Turkey's Democracy," in The New York Times, dated July 25, 2016.
[96] See for instance Mustafa Akyol, "Who Was Behind the Coup Attempt in Turkey?" The New York Times, dated July 22, 2016. For an alternative narrative from within the Hizmet movement, see Yüksel A. Aslandogan, "What Really Happened in Turkey on July 15, 2016?: An Alternative to the Turkish Government Narrative," in What Went Wrong in Turkey, Special Issue of The Fountain Magazine, dated June, 2017, pp. 12-17.
[97] Ishaan Thoroor, "Turkey's Erdoğan turned a failed coup into his path to greater power," The Washington Post, dated July 17, 2017.
[98] Ibid.
[99] Robert A. Pape, "It's the Occupation, Stupid," in Foreign Policy, dated October 18, 2010.
[100] Gülen, Journey to Noble Ideals (NJ: Tughra Books, 2014), p. 224.
[101] Gülen, Gulenmovement.com, "Fethullah Gülen's Message on the 9/11 Terror Attacks." (accessed on October 21, 2019).
[102] See Mustafa Akyol, op. cit. and Dexter Filkins, "Turkey's Thirty-Year Coup," in The New Yorker, dated October 26, 2017.
[103] Counter-Memorial, para. 32. See also Sertan Sanderson, "From Ally to Scapegoat," op. cit.
[104] Guy P. Harrison, "Why no one should ever use the word 'cult'", in Psychology Today Blog dated July 18, 2018.